I'm a big fan of eating my own dog food. As in, companies using their own products and services - not raiding Rover's bowl.
So it's satisfying (and probably no surprise to you) that PaperCut uses PaperCut to manage its printing.
Similarly, we're using our latest handy gadget - QRdoc - to manage the lives of our documents.
Wait, what's QRdoc?
QRdoc is a free web application by PaperCut that puts a tiny QR code on your documents. With this simple QR code, you can:
Access the latest version of your document
Find text in your printed document
Email paper documents without scanning
Open the digital copy of any printed document
Follow printed documents, magazines or brochures and know when new versions are out!
How PaperCut uses QRdoc
Righto, explanations over - let's take a look at three ways we're using QRdoc in our offices. To help me, I caught up with PaperCutter and QRdoc bigwig Geoff Smith. Geoff's been the driving force behind the project and knows a thing or two about its clever uses.
1) QRdoc for technical manuals
Turns out we create a technical manual for every brand of printer. This manual explains how to install PaperCut on that particular brand.
"Each PaperCut release that comes out," says Geoff, "We add a few more flags and config keys, which means changes are needed for these manuals."
So if you're an installer for Ricoh, for example, and you're going out on site and setting up systems, you probably carry one of these manuals in your bag. And with 3-4 updates a year to PaperCut MF, that poor installer won't know whether their manual's up-to-date.
"Wouldn't it be cool," Geoff continues, "To know whether that documentation's changed?"
So with QRdoc, you could scan it with your phone and see whether there's a new version out.
2) QRdoc for marketing brochures
We've been including QRdoc codes on our marketing collateral from the moment QRdoc was released. It makes version control an absolute delight.
The practicalities are obvious. Imagine you're at a trade show and you're picking up brochures. Then you get back to the hotel room at night and you've got this big heavy bag full of brochures and you think, "I don't want to take that home". I don't have room in my case. So you just chuck it in the bin.
" You don't need the paper copy"

Geoff Smith, QRdoc product manager
"We're an environmentally conscious company," Geoff says. "And we realized what a waste that is. Wouldn't it be better if you just went around the trade show, see a nice brochure, zap it with your phone and send a copy to yourself? It's going to be sitting in your inbox when you want to look at it. You don't need the paper copy."
QRdoc extends the functional life of your marketing collateral, too. How handy is it to have an outdated brochure still working for you? If a potential customer finds your brochure from two years ago, they can scan it with QRdoc and see the latest version.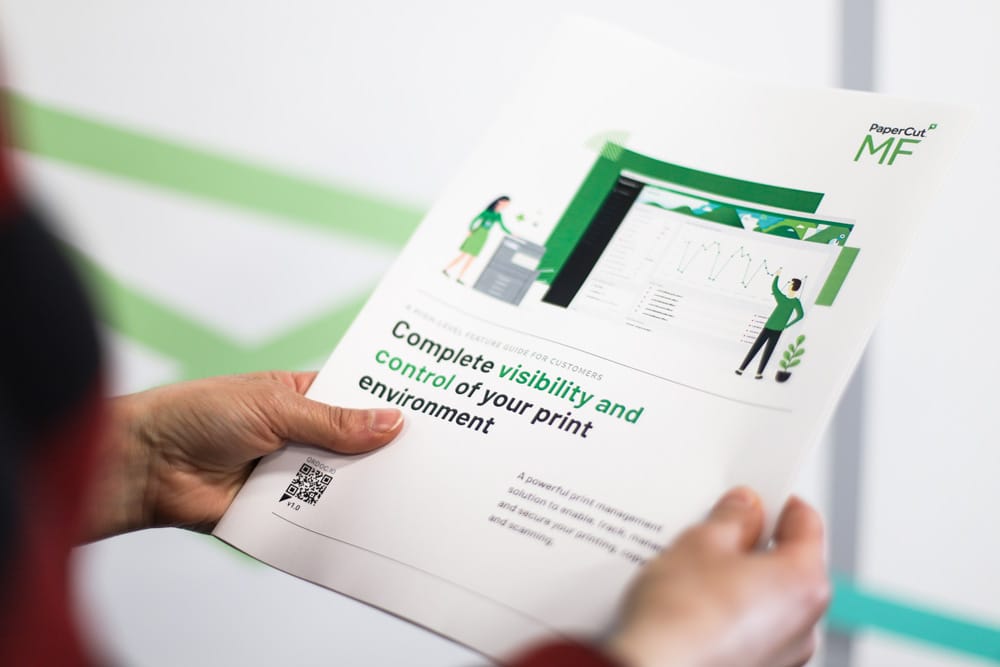 We're using QRdoc to keep our hardcopy brochures relevant
QRdoc for website building
"OK, this one's not actually being used at PaperCut yet, but I'm working on it," laughs Geoff.
Here's the concept: time-poor small businesses add their company info to PDF documents, upload them to QRdoc, and create a website out of them.
And here's Geoff's take on it:
"What if I'm a small business and I want to put my manuals or documents or whatever online, but I'm not very good at putting together a website. And what if QRdoc can put together a page where we can show public documents in a nice consumable way so that people wouldn't have to create a website for it.
"And what if we could integrate with some of the common website builders like WordPress or Google Sites or something like that and have some plugin that attaches QRdoc to it."
---
OK, so that third concept's pretty out there, but those are the types of ideas and directions that Geoff wants to move QRdoc towards.
"We want QRdoc users to tell us how they want it to work for them. If the idea's strong enough, we'll make it happen."