PaperCut wins at Print IT Awards 2022
It's not just the end of the year/silly season… It's awards season - print industry awards season!
On 6 December at the Royal Lancaster in London, a gaggle of our EMEA-based PaperCutters threw on their finest black tie garments and took to the red carpet at the 2022 Print IT Awards.
With glasses of champagne in hand and green PaperCut balloons adorning our table, the team eagerly awaited to hear the results…
And it feels like Christmas is here early because PaperCut Mobility Print won Mobile Print Solution of the Year !
Really, with a trophy and everything!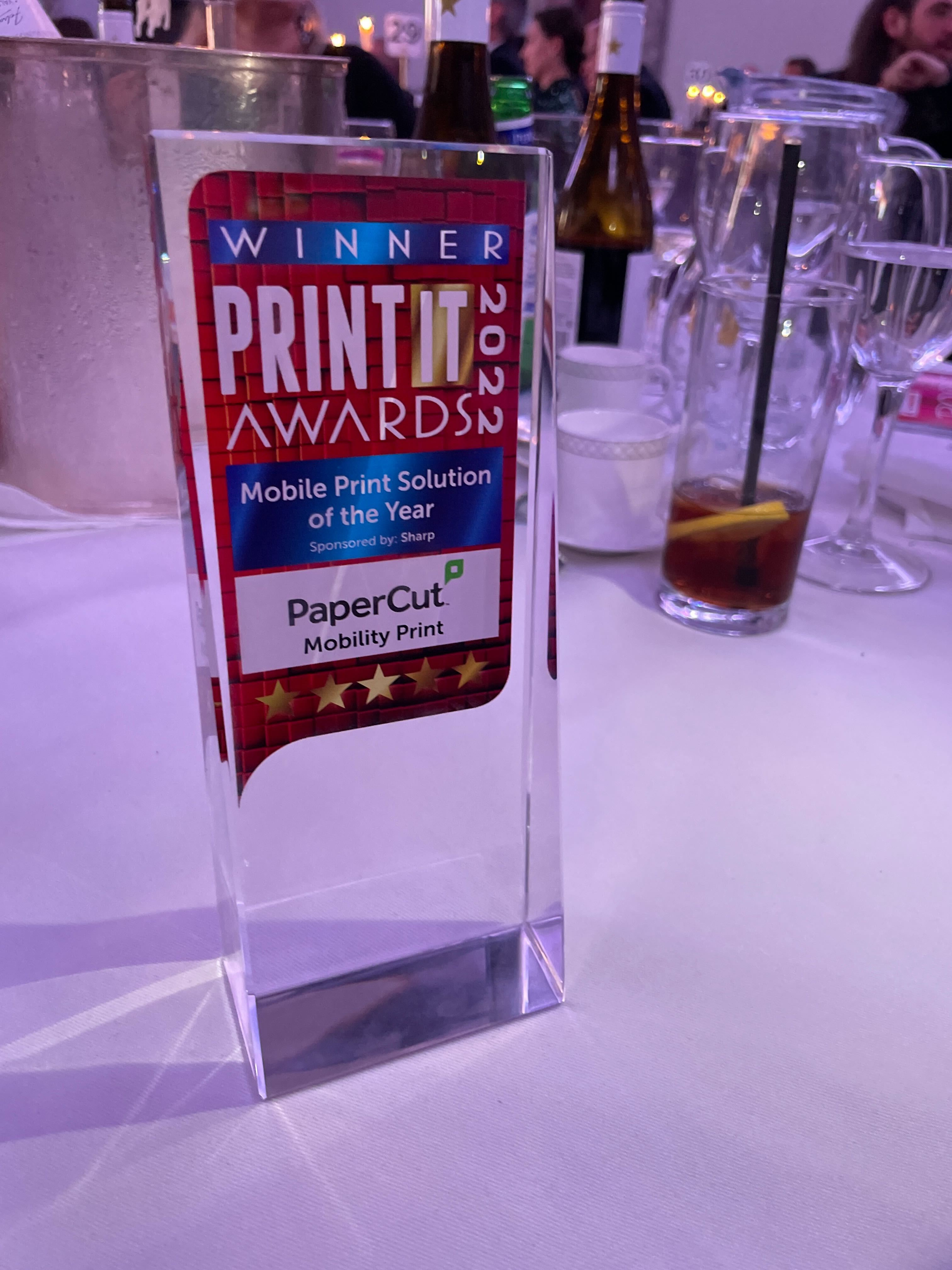 BYOD and mobile printing found itself under the microscope during the COVID-19 pandemic. We're passionate about making printing simpler for end-users and sysadmins, so to receive this award is a humbling honor.
"We're thrilled to have won the Mobile Print Solution of the Year category with PaperCut Mobility Print at the Print IT Awards 2022.
"With BYOD and the Hybrid working model accelerated by the pandemic, how people work and how they print has changed. It's only right that print adapts to offer solutions that accommodate those changes easily and securely for organizations and end users alike, wherever they are based.
"Solving customer challenges and responding to market changes inspires our team, and we're honored that their efforts have been recognized by the leading publication for the print, document and imaging industry." - Stu Brookes, EMEA partner enablement lead
It wasn't just PaperCut who came away as winners. Our friends at Intuitive Business Intelligence took out the Judges' Special Award!
It was such a treat to see our buddies from Intuitive BI recognized in such a fashion.
In fact, it's a gift every year to work with our global partner network. We'd like to thank our Authorized Solution Centers, resellers, and OEM partners for all they do.
And we definitely want to send all the hugs, streamers, and ribbons out there to our developers and all PaperCutters who work on all our products.
But a big congratulations to the Mobility Print team. You deserve the recognition of this award, and we're so darn proud of you all!
Big, big, big thanks and appreciation to PRINT.IT Reseller for bringing these awards to our industry and for hosting such a wonderful night. Well, I wasn't there, but the team has shared many hilarious photos and videos and I'm super jealous of how much fun they had!
Here's to 2023 and what the new year might bring!
Wooo, awards!