I took a trip to Labman 2019. These are my observations from the event.
What is Labman?
I'll let the organization speak for itself:
The Academic Lab Management Conference, also known as LabMan, was formed back in 2000 for professionals responsible for the maintenance of computer labs in education settings. As technology in labs continues to evolve, LabMan focuses on the overarching aspects of academic computing services which includes computer labs, bring your own device (BYOD), wireless support, classroom support, and innovation spaces for students and other patrons.

LabMan started as an informal, inexpensive, and friendly conference designed for people associated with the maintenance of computer labs in colleges, universities, K-12 school districts, or libraries.
The conference took place this year on the Illinois Institute of Technology's campus in beautiful Chicago.
Why did Art go to Labman?
I went to Labman to represent PaperCut's tech support team . I supported the booth with help from fellow PaperCutters Tinh Truong, Willem Groenewald, and Jennifer O'leary.
How was it?
It was good.
To expand slightly on that, I liked meeting with customers in a friendly environment. The face time during the conference was a very welcome departure from the detachment inherent to day-to-day support interactions. I came to humanize the folks that use our program every day. Once people found out I represented tech support, they told me all about their feature requests, so I have some following up to do.
Also, it was refreshing to meet vendors, like  Labstats , that look forward to getting integrations off the ground or wanted to chat about the value they add with existing PaperCut integrations.
To top it off, I enjoyed getting to know Willem and Tinh very much.
So, what did Art do?
I listened to people, tried to inform them, and handed out TONE-R and PPR-JM robots. The PPR-JM robots were a hit - everyone liked TONE-R's evil twin better.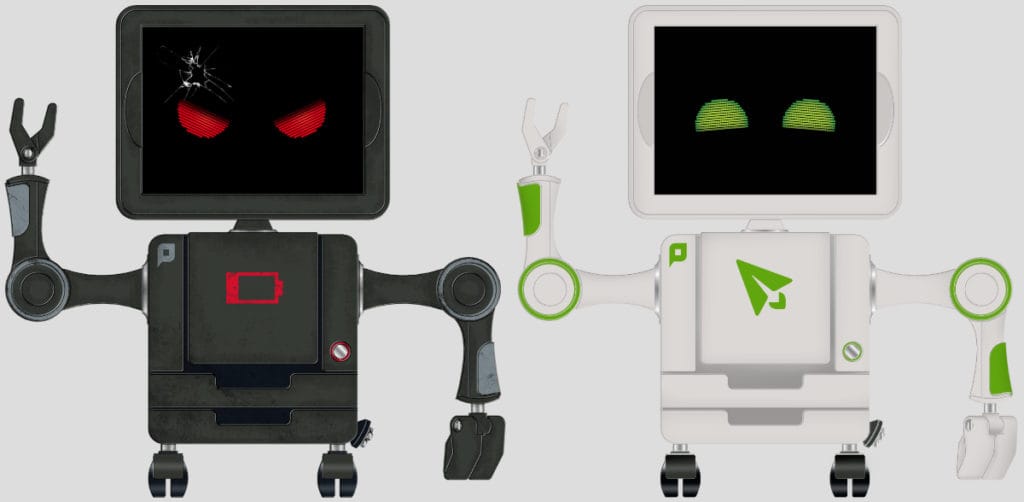 Can you guess which one is PPR-JM?
Did Art have any Chicago deep dish pizza?
Yes, and it was awful. I do not recommend it.
Does Art have photos to share?
Of course.
For lunch, I abducted Willem and Tinh and forced them to watch the USWNT's stunning exhibition of offensive firepower against Thailand
Illinois is flat
IIT locks up the MFDs to prevent students and staff from stealing paper and toner
A piece of the L train track fell off and I decided to keep it
This nice lady was stoked to have a TONE-R and made a necklace out of it
Alan Morris wanted me to check out the scene of a famous Steve McQueen film, so I did
I found the flagship Mickey D's and it's TWO STORIES!!!😍
I took Tinh to get his first pizza in the USA
Aaand I went to LabMan
I'll take this moment on the blog to suggest that you get to the conference if you can. Because, it was good.
And, drum roll, please… See you at VCU next year, Labman!