Back in June 2018 I introduced composting to our Portland office . I'm pleased to report it didn't take long for our office to embrace our new composting program!
Over the past 10 months, we've collected tons of coffee grounds, fruit scraps (from our weekly fruit delivery service), and lots of table scraps from our lunch. Interestingly, I've discovered it's easier to monitor food composting than recycling. It's pretty clear what's an organic item ready for composting versus the sometimes complicated world of recycling.
So with the composting a success, it was time to take sustainability at work to the next level. After all, we're PaperCut - we have to walk the walk.
Joining the City of Portland's Sustainability at Work program
The City of Portland was instrumental in getting us up and running on composting, and gave us stickers, educational materials and a great website full of handy resources .
After joining their monthly newsletter, we discovered the city manages a certification program. Which got me thinking - maybe we could be recognized for the small efforts we've put in place?
A small team of PaperCutters met to review the City of Portland certification application. To our delight we discovered we were already doing a lot!
Some of the items in place:
Centralized printers are used (no more than 1 per 10 employees)
Paperless alternatives are used whenever possible (paystubs, invoicing, orientation materials, etc.)
The majority of copier paper is used on both sides
Recycling bins are clearly labeled and regularly monitored, and education is provided when needed
Food scraps are composted
Only reusable dishware is available for day-to-day office use
An employee or green team is supported by management in implementing sustainability efforts
Only tap water is provided at our workplace; no water delivery service or single-serve plastic bottles
Employees participate in a commuter challenge every year (Bike More Challenge, Drive Less Commute Challenge, etc.)
Sheltered, secure bike parking is available for employees
A transit pass program is offered to all employees
Occupancy sensors or timers are used for lighting in storage room, offices, restrooms and other common rooms
Sponsorship, in-kind services, or products are donated to community organizations
Employees are allowed to volunteer in the community on paid work time
Twenty percent or more of our employees walk, bike, carpool, or take transit as their primary commute method.
It was wonderful to see we were already on a great track. All we needed to do was review the certification application to determine what else was needed to achieve our goal of becoming "Sustainable at Work" certified.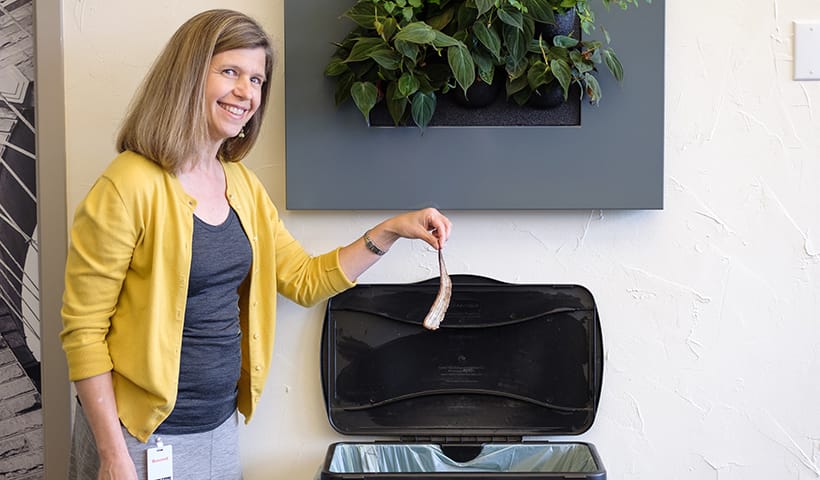 Julie Gefroh composting a banana peel. Or bacon. Hmm.
Completing the criteria
It turns out we only needed a dozen or so additional things to reach silver certification:
Employees are educated annually (at minimum) about sustainability best practices.
Sustainability practices are communicated to customers.
New employees are informed about sustainability best practices — including waste reduction, recycling, and commuting options
Fluorescent light tubes and compact fluorescent light bulbs (CFLs) are safely stored and properly recycled.
Potentially hazardous products such as paints, solvents and cleaners are safely stored and recycled properly.
Maintenance checks are regularly conducted on HVAC and other energy-intensive equipment.
Windows are double-pane or better.
Doors are weather-sealed.
Programmable thermostats automatically reduce heating and air conditioning during closed hours.
Linear lighting uses either LED bulbs, T8 or T5 fluorescents with electronic ballasts.
Track and spot lighting use LEDs or CFLs.
Emergency EXIT lights use LED bulbs.
Garage or parking lot lighting is energy efficient.
A social responsibility mission statement guides our work and is shared with the public.
Imagine my delight when, a few weeks after submitting our application, the following message arrived from the City of Portland:
I am pleased to officially announce that PaperCut Software has achieved Sustainability at Work Silver certification, congratulations to you and the whole team!

City of Portland Sustainability at Work logo
I have to say the team is thrilled with the certification, justifying our efforts to live PaperCut's sustainability values.
Next on the agenda is gold certification. That'll require some big ticket changes that are building related. Admittedly a step up from changing light bulbs and composting, but we won't be daunted. I'll keep you posted!
Do please share your workplace's sustainability efforts in the comments below - what are we missing that we could implement?