Today PaperCut kicks off our week-long celebrations for Pride month.
Pride is important to us at PaperCut because it reflects our core values as a company.
We celebrate diversity and equality in all its forms.
We are proud to be an all-inclusive workplace, celebrating our differences in gender, sexual preference, race, age, disability, or any other identifying characteristics.
To commemorate Pride month and the Stonewall riots , we wanted to pay tribute to the truly inspiring members of the LGBTQ+ community who have made technological innovations for all humanity.
Let me be frank, we thought we would be remiss if we didn't focus equal parts on these pioneers' achievements, and their struggle as members of the LGBTQ+ community.
Many LGBTQ+ people are still struggling with systemic prejudice and oppression. Part of Pride month is acknowledging that struggle in the name of continuing to forge a better future.
The following stories contain not just the triumphs of these LGBTQ+ tech pioneers, but their struggles too.
A word of warning that some of these stories contain descriptions of trauma and discuss suicide.
Tim Cook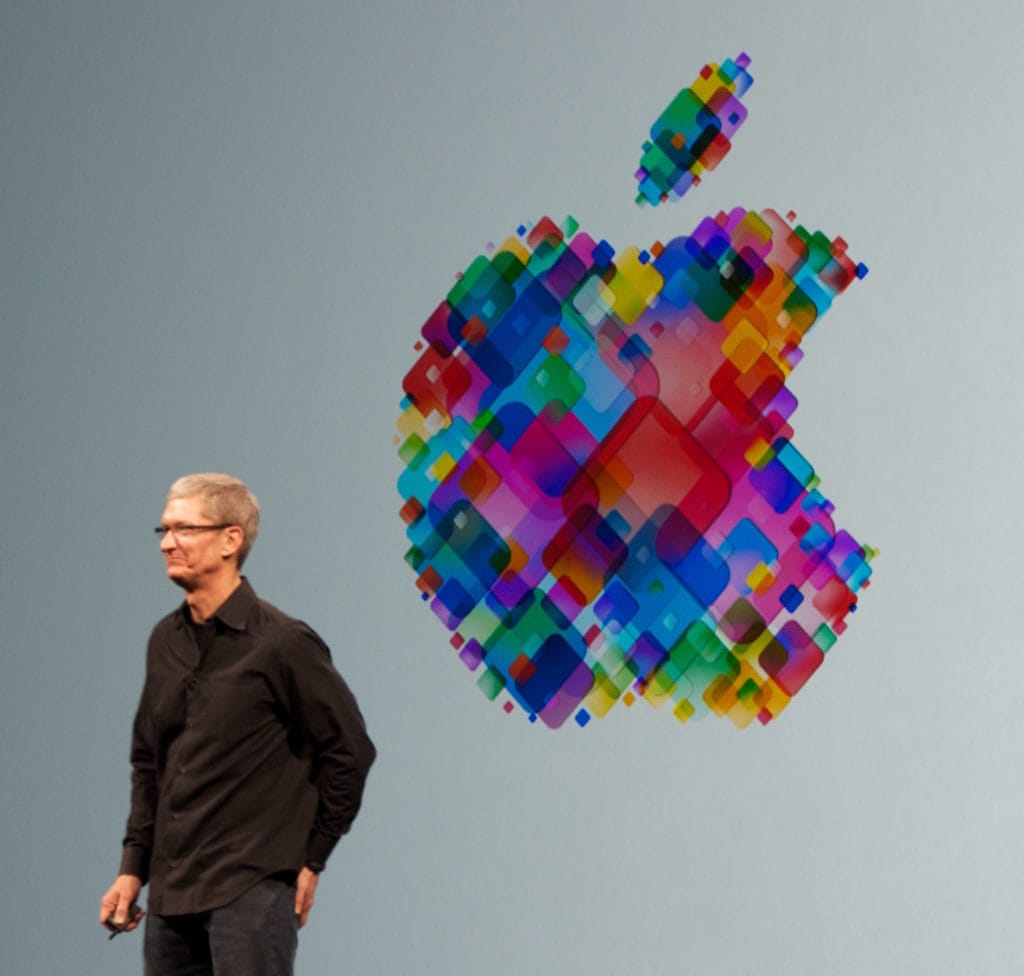 Tim Cook at WWDC 2012. Source: Flickr user Mike Deerkoski . Date 11 June 2012. Author: Mike Deerkoski. No changes made.
A name that needs little introduction, the CEO of one of the world's towering tech giants.
Tim Cook first started with Apple in 1998, after being personally invited by Steve Jobs. Cook began as Apple's senior vice president for worldwide operations and later became their executive vice president for worldwide sales and operations.
While Steve Jobs fought his battle with pancreatic cancer, Cook served as lead of operations, beginning in January 2007. In 2009 Cook took the reins as chief executive while Jobs was away on a medical leave of absence. Cook became the Apple CEO in 2011, the same year Jobs passed away from complications with pancreatic cancer.
In 2014 Tim Cook was the first chief executive of a Fortune 500 to come out publicly as gay. In an op-ed for Bloomberg , Cook revealed his sexuality to the world:
"For years, I've been open with many people about my sexual orientation. Plenty of colleagues at Apple know I'm gay, and it doesn't seem to make a difference in the way they treat me.

Of course, I've had the good fortune to work at a company that loves creativity and innovation and knows it can only flourish when you embrace people's differences.

Not everyone is so lucky. While I have never denied my sexuality, I haven't publicly acknowledged it either, until now. So let me be clear: I'm proud to be gay, and I consider being gay among the greatest gifts God has given me."
Along with Jobs, Cook helped rescue Apple from financial peril and built it up to one of the top tech companies in the world. He is known for his advocacy for the political reformation of international and domestic surveillance, cybersecurity, corporate taxation, American manufacturing, and environmental preservation.
Among his various awards and honors, he was named the Financial Times Person of the Year (2014) and Fortune Magazine's World's Greatest Leader (2015).
Alan Turing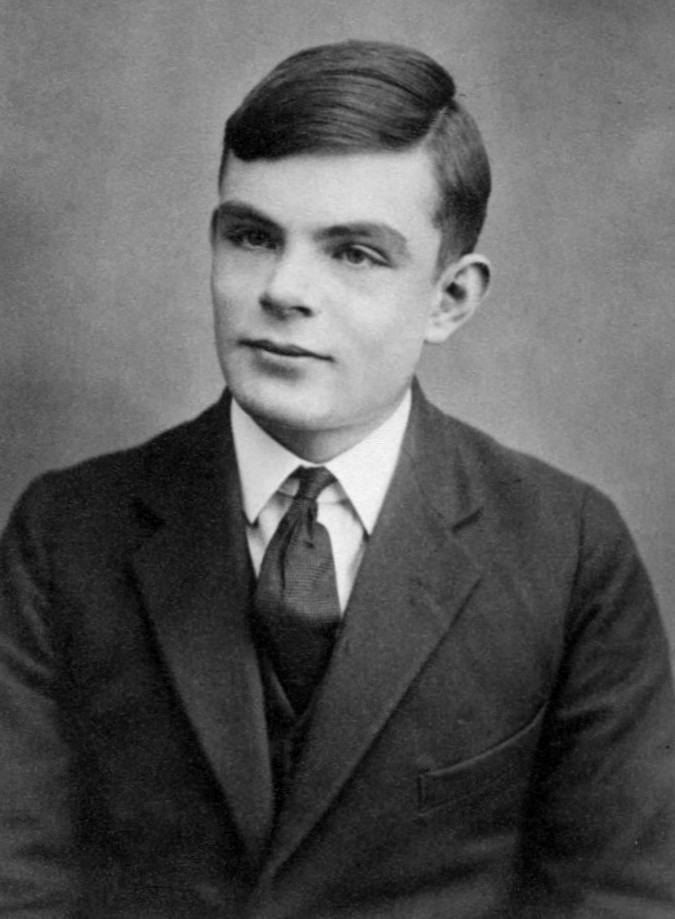 Passport photo of Alan Turing at age 16
Largely considered the father of theoretical computer science and artificial intelligence, Alan Turing was instrumental in helping to break the Nazi's Enigma code during the Second World War.
A mathematician, computer scientist, logician, cryptanalyst, philosopher, and theoretical biologist, Turing was one of the highly influential theoreticians operating out of the Government Code and Cypher School at Bletchley Park .
Turing's development of theoretical computer science provided formalized concepts of algorithm and computation with his Turing machine , one of the earliest models of a general-purpose computer.
In 1950 Turing developed what we now know as the Turing test . The breakthrough essentially began as a simple question, "Can machines think?"
Turing crafted a formula to evaluate a machine's ability to exhibit intelligent behavior equivalent to or indistinguishable from human behavior. Although controversial, the hypothesis has been influential in the philosophy of artificial intelligence.
Sadly, Turing was never fully recognized for his accomplishments during his lifetime. Until recently, much of his work during the war was covered by the Official Secrets Act .
More tragically, Turing was persecuted by his country for his homosexuality. Prosecuted in 1952 for homosexual acts mandated as "gross indecency", Turing accepted chemical castration instead of a prison sentence.
He died in 1954 from cyanide poisoning. An inquest determined his death as suicide but evidence supports accidental poisoning as a possibility.
In 2009 then British Prime Minister Gordon Brown issued Turing an official public apology on behalf of the British government. Queen Elizabeth II followed this up in 2013 with a posthumous pardon.
Turing's legacy exceeds his achievements in STEM and his status as a national hero. The Policing and Crime Act 2017 contained a law that retroactively pardons men who were cautioned or convicted under historical legislation that outlawed homosexuality.
This provision is known as the " Alan Turing law ."
Sally Ride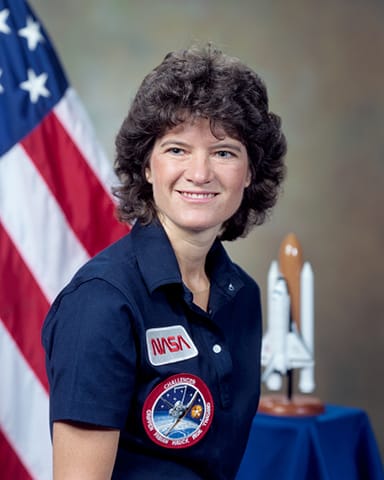 In 1983 Sally Ride became the first American woman to enter space.
An astronaut and physicist, Ride was a member of the first NASA class to select women, NASA Astronaut Group 8 in 1978 . Despite the negative media focus on her gender, Ride saw herself as an astronaut before anything else.
She flew two space flights, STS-7 and STS-41-G , and spent a total of more than 343 hours in orbit.
Ride was scheduled for a third space mission, STS-61-M , but this flight was canceled after the Space Shuttle Challenger disaster of 1986 .
She was named to the Rogers Commission which investigated the disaster. She was the only person to serve on both panels investigating NASA shuttle accidents, later sitting on the Columbia disaster panel.
Ride was reportedly the only person to publicly support Roger Boisjoly, the engineer who warned of the technical problems which lead to the Challenger disaster.
After the Challenger investigation, Ride was assigned to Washington D.C's NASA headquarters where she led NASA's first strategic planning effort and founded NASA's Office of Exploration .
After leaving NASA in 1987, Ride later became a professor of Physics at the University of California, San Diego. She also served as the director of the California Space Institute.
In 2001 Ride co-founded Sally Ride Science , a company that promoted science education primarily for upper elementary and middle school girl students.
She also co-wrote seven books, encouraging children to study science, with Sally Ride Science co-founder and professor emerita of psychology at San Diego State University, Tam O'Shaughnessy.
An intensely private person, Ride was married to fellow NASA astronaut Steve Hawley in 1982. However, after her death, it was revealed in her obituary that her partner of 27 years was O'Shaughnessy.
Sally Ride is the first known LGBTQ+ astronaut.
Jon Hall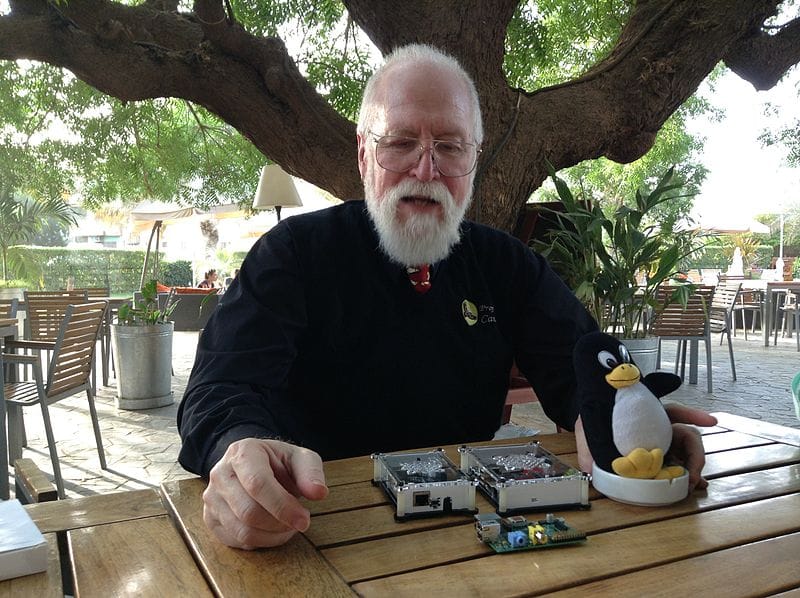 Jon Hall with his gadgets 1 Date: 11 May 2013 18:10:35 Source
AbhiSuryawanshi
Preferring his nickname "Maddog", as coined by his students at Hartford State Technical College , Jon Hall is the current Board Chair for Linux Professional Institute.
Working for many tech companies throughout his career, Hall first developed an interest in Linux when he was working for Digital Equipment Corporation. He assisted Linux creator Linus Torvalds in building his first port, on Digital's Alpha platform.
Hall has been an adamant advocate in a variety of programming causes involving open-source hardware. He is the president of Project Cauã, an initiative to create sustainable, private sector entrepreneurial jobs in dense urban areas throughout Latin America.
In 2012 on the 100th anniversary of Alan Turing's birthday, Hall wrote an essay for Linux Magazine on his hero. In the article, Hall publicly announced that he is gay:
"This announcement will surprise some people, and not surprise others. I have "come out" to some people (usually my closest friends) and not others. I do not "flaunt" my homosexuality, neither do I lie about it. If people ask me directly about my homosexuality, I tell them."
In the essay, Hall spoke out against homophobia, sexism, racism, and other pillars of inequality, declaring that he was lucky in that he always felt accepted by his community:
"Computer science was a haven for homosexuals, transsexuals and a lot of other "sexuals", mostly because the history of the science called for fairly intelligent, modern-thinking people."
Angelica Ross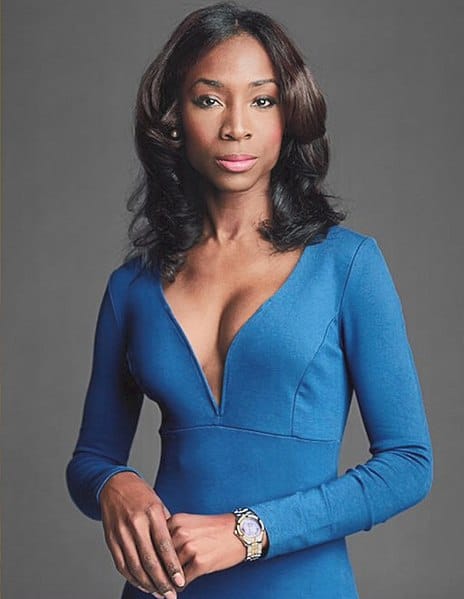 Angelica Ross explains what she means Date: Monday, November 20, 2017 at 7:01 AM EST via Final Cut Pro Source: Angelica Ross Interview on PartyFoul Clip #1 Author: Miss Ross, Inc. (crop by author)
The founder and CEO of TransTech Social Enterprises , Angelica Ross is an African-American entrepreneur and transgender rights advocate. Starting off in STEM as a self-taught computer coder, Ross's firm TransTech helps employ transgender people in the tech industry.
Ross was perceived as feminine from a young age. She came out as gay at age seventeen and her mother did not receive the news well. Her mother issued the ultimatum that Ross should commit suicide or she would, because she couldn't live with her as a child. Ross considered ending her own life. She overdosed on medication but survived.
At 17 Ross graduated high school and joined the U.S Navy as a minor. She requested an "uncharacterized" discharge after six months. At the time the " Don't Ask Don't Tell " policy was in force and she requested the discharge after being harassed by enlisted men who pressured her into saying she was gay.
She moved back home at age 19 and began her gender transition. This caused her parents to throw her out. Ross moved in with her slightly more understanding biological father. Despite being estranged from her parents, their relationship has since been salvaged.
In 2014 Ross launched TransTech Social Enterprises, her nonprofit creative design firm for transgender and other workers. The next year Ross was featured as a speaker at the 2015 White House LGBTQ Tech and Innovation Summit. More recently she was a celebrity ambassador to last year's 50th Anniversary Stonewall celebration for Pride Month.
A few months later she hosted the 2020 Presidential Candidate Forum on LGBTQ issues, making her the first openly transgender person to host an American presidential forum.
Ross is also an actress with credits in Her Story and FX's hit series American Horror Story.
Lynn Conway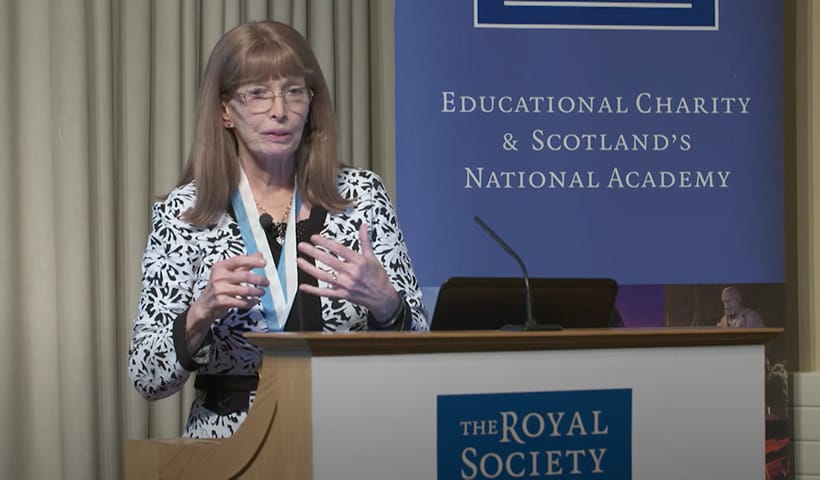 Lynn Conway YouTube/The Royal Society of Edinburgh
81-year-old Lynn Conway is a pioneer of supercomputer technologies and microelectronic chip design. Conway spent the 1960's developing supercomputers at IBM and the 1970s designing computer chips at the Palo Alto Research Center for Xerox. Among her greatest technological innovations are the Mead & Conway revolution in VLSI design .
She is credited with a key advance used in out-of-order execution by inventing generalized dynamic instruction handling. This is used today by most computer processors to improve performance.
Conway was first recruited by IBM in 1964. She joined their New York research center and was quickly selected for the Advanced Computing Systems (ACS) architecture team. These machines are credited by the Computer History Museum as the first superscalar design.
Conway experienced gender dysphoria at a young age. In 1957-1958 she attempted a gender transition that failed due to the age's medical climate. She withdrew from MIT as a result.
It was the pioneering research of Harry Benjamin in treating transexual women that made genital affirmation surgery a possible reality. Conway's gender dysphoria led to severe depression for which Benjamin provided counseling and prescribed hormones. Benjamin then oversaw Conway's medical gender transition.
After revealing her intention to transition to a female gender role, IBM fired Conway in 1968. Her role and contributions at the company wouldn't become fully realized until decades later. She completed her transition in 1968. With a reborn name and identity, she rebooted her computer science career.
After decades of her work being covered up at IBM , in 1999, amidst progress that her IBM contributions would be unveiled, Conway started coming out privately to friends and colleagues about her gender transition.
Conway came out publicly as transgender in the early 2000s. She has since become a vocal transgender advocate, working to protect and expand the rights of transgender people.
How can you celebrate Pride?
PaperCut is celebrating Pride month across all three of our offices in Portland, London and Melbourne. The COVID-19 pandemic has impacted how we can celebrate but it hasn't stopped us completely.
We'll be sharing "Snackable" posts on our Slack channels, sharing stories on Pride's importance along with fascinating tidbits about the LGBTQ+ movement, from the history of the Pride flag to Sydney's Gay and Lesbian Mardi Gras.
We're encouraging everyone to wear rainbow colours during our Google Meets weekly Global session.
Our Melbourne and London teams will host an LGBTQ+ themed trivia for our regular weekly virtual knock-off drinks. In Portland our team are virtually screening an NYU documentary about Pride.
That's not even all of our 2020 Pride celebrations, that's just the tip of the rainbow.
But you don't need to throw a party to get involved. The Stonewall charity supports LGBTQ+ communities year-round. If you'd like to find out how to contribute to their movement, you can do so on their website .