Australian's are a hardy bunch, a great nation built on the foundations of our vast land and abundant resources; our national anthem adds to the narrative of our golden soil and wealth for toil. As a nation we are now more aware than ever that our mineral and farming resources alone cannot sustain us as we move into the 21st century. Highlighted at the recent global climate change conference in Paris, world leaders too are looking to transform each country's reliance on fossil-fuel drive economies.
So where do we look to next that keeps the balance our country needs alongside sustainable environmental and economic outcomes? Is there an alternative to nature's gifts?
Enter Malcolm Turnbull, an entrepreneur and Australia's latest Prime Minister. A self made business man with a plan to transition our country from one with a sole reliance on land to the intellect inhabiting it. A new ideas boom that relies on the minds above the ground rather than what lies beneath.
Not just a short term strategy, Mr Turnbull's plan is to transition Australia from an agricultural and mining country to one based on innovation. This generational change is backed by two co-founders at PaperCut, a Melbourne based software development company who have managed to get a firm foothold into the local and global economy. CTO Matt Doran follows Malcolm on Twitter, identifying with his vision as a fellow entrepreneur. "Innovation across both technology and our traditional sectors of farming and mining should be encouraged. Australia must focus on creating value with the talent and resources we have at our fingertips."
CEO, Chris Dance is encouraged to see the government taking investment in the future of our nation in the right direction. "Innovation is not just fixed through access to funding or a governed state, it's a whole society and cultural commitment. Moving away from short term funding cycles to a visionary view supports this."
[caption id="attachment_3649" align="aligncenter" width="800"]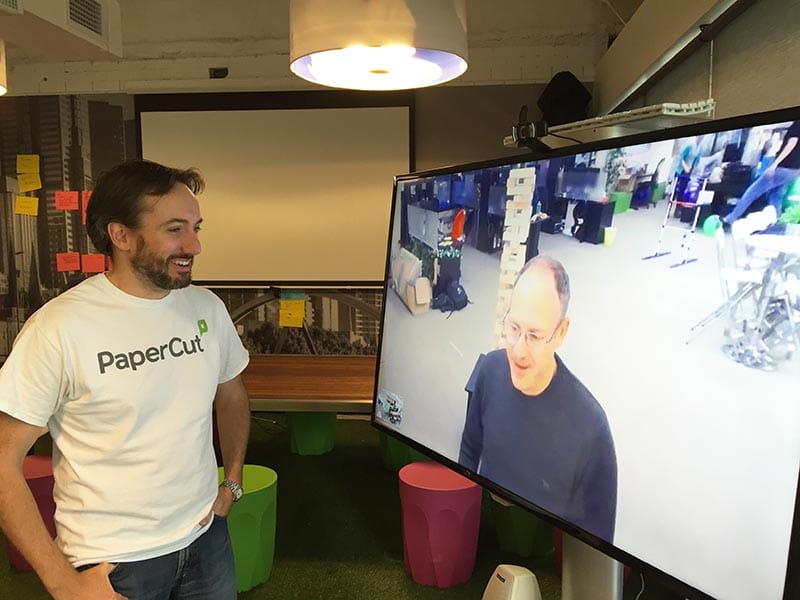 Matt, CTO (left) in our current Hawthorn office, talking to Chris, CEO in Portland USA over their innovative automatic portal, developed so the worldwide teams can see into each other's offices.[/caption]
Investing in intellect
Talent and skills are the next resources that Australia should be underwriting. "The future sources of talent are definitely those coming out of the education pool, so attracting and retaining educated graduates within and to Australia should be high on the government agenda." said Chris.
Chris also sits on the Swinburne University ICT Course Advisory Board and is excited by some of the initiatives coming out of the academic circle with regards to startup culture and innovation.
"I put my hand up to chair that board as I do think the future of Australia is entrenched in education. If I can be influential in that, and feel like I can offer value, then I'm very keen to donate my time."
Also on the advisory group of another start-up, Maths Pathway , Chris relishes the opportunity to offer experience back to the local community and to influence the local innovation cycle.
Starting small
Starting from a lounge room then moving into an office allowed Chris and Matt to bootstrap PaperCut's growth. Not all startups can do this. To be successful in a global market, now requires access to funding earlier on in the growth cycle. "The cost of living in Australia is high on a global comparison and seeking funding from risk averse banks isn't an alternative for many." said Matt.
"When startups are on the edge and they see they can outsource development work to compete on a global level, they may have no alternative but to send the intellectual capital offshore. If competitors have a cheaper cost base, you need to compete."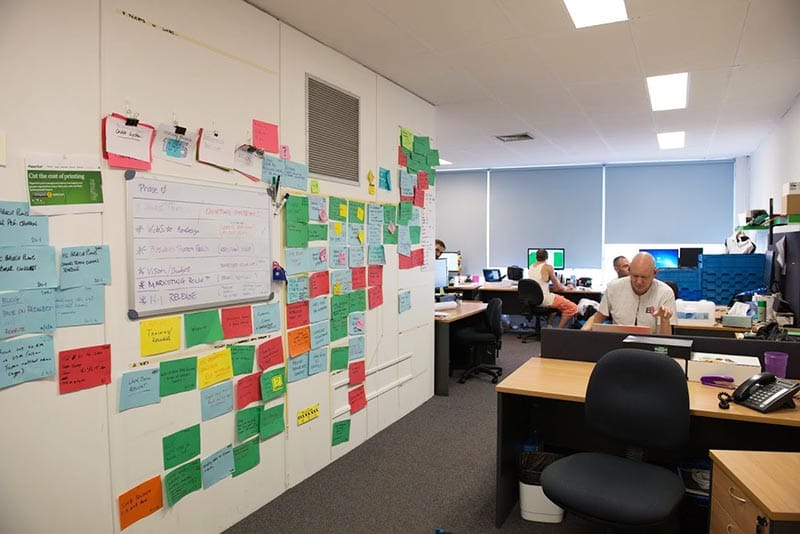 The first office in Melbourne's Mt Waverley had a capacity of 20
"It's important that the government can make the country as efficient and productive as possible. Whether they ensure we have well educated people or remove barriers to entry like inefficient taxes or access to funding, as any of these stumbling blocks can kill off businesses in their infancy."
Paving the way with funding
There's no doubt that a number of government programs like the Export Market Developments Grant (EMDG) or international missions via the Victorian Department of State Development and Business Innovation (DSDBI) have been instrumental in being a part of PaperCut's international success. The ROI for the government from PaperCut is a real success story. "We're very encouraged by the government investing further into these high return areas." said Chris. "At PaperCut, these programs have helped to yield job and infrastructure growth. We've brought dozens of jobs into the Victorian economy and have just outgrown our second premises at our Hawthorn technology hub.
"Receiving interest from venture capitalists was only ever from US companies. It seems there is a funding shortage here in Australia, or at least a risk adverse culture from banks and investors" said Matt. Turnbull's Innovation Statement supports this change to encourage mum and dad investors with tax breaks and offsets.
Supporting graduates
The PaperCut team are growing and will remain headquartered in Australia. "We believe in Australia and we believe we can mix it with the best of them, we don't want to go offshore, we want to employ people in Melbourne", said Matt. Growing from a team of 20 just 2 years ago to over 70 with offices in the USA and UK, we are on a huge trajectory.
We have ties here to the business and education communities. Understanding the importance of computer literacy, Chris and Matt have made a conscious effort to align with Australia's most respected technology university, Swinburne.
At PaperCut we encourage IBL and intern students, regularly offer summer vacation spots. Our first two employees were new graduates as is our first female developer who is still with us today, starting over 8 years ago.
In 2015 we had one IBL placement, and now have two planned for 2016. The program is a win for students, universities and employers. Students get experience, see the real world and round out their education, and for universities employer placements make their graduates more valuable. "From our perspective we're after great new talent," said Matt. "It's great to get a mix of young, enthusiastic and smart people that we can mentor."
For both Chris and Matt, their interest in "computer programming" as it was called back then started in high school. Encouraged by the Federal Government's focus on education, both believe bringing this into upper levels of primary school along with partnering with universities will only expand the opportunities for all students.
As well as focussing on innovation in technology for both sciences and engineering, the commercialisation of ideas and development of entrepreneurs inside the education system are all positive moves in the right direction. For Chris and Matt, winning the 2014 EY AU Technology Entrepreneurs of the Year was the pinnacle of many years of work which they hope encourages like minded startups to flourish.