We're lucky to have a new team member join us in the marketing team. Chris Goult is our shiny new channel marketing manager.  Chris comes to us from Konica Minolta Business Solutions Australia with loads of knowledge and enthusiasm for all things marketing and channel related.
We caught up for coffee and questions.
Chris, tell us about yourself!
I'm a British expat and now an Australian citizen, having moved here in 2010 after my Australian wife Renee got sick of the rubbish weather. Actually, she wanted to be back near her family for the birth of our son, but we certainly don't miss the British weather!
We live in Brisbane, having recently returned here a year ago after five years in Sydney. We have two children: seven-year-old York, and daughter Parker-Rose who is five. The other member of our family unit is Joules, our Golden Retriever and hole digger.
[caption id="attachment_4750" align="aligncenter" width="820"]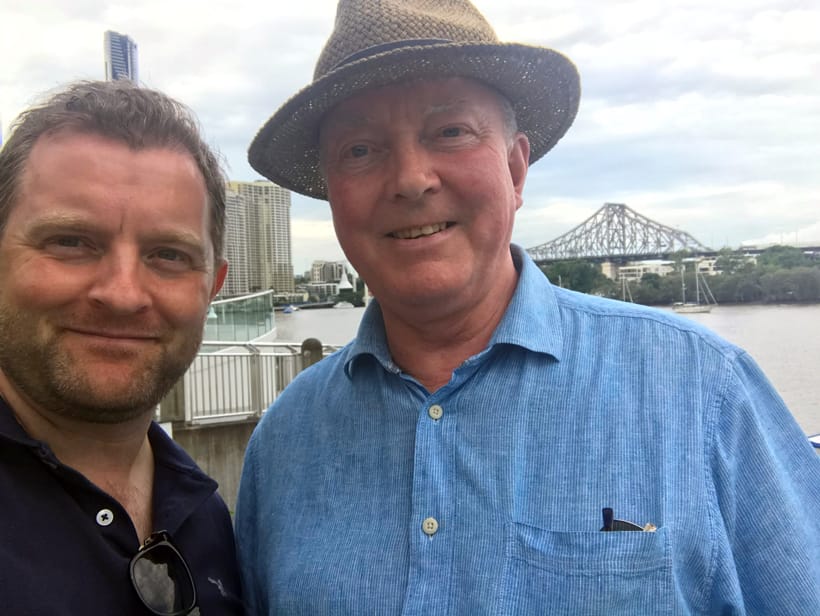 Chris and Dad sightseeing in Brisbane[/caption]
What did you do prior to joining PaperCut?
I've worked in print OEM product marketing roles for the last 17 years. It all began at Oce in the UK, where I also spent some valuable time in sales, before moving into an EMEA product marketing role at OKI Europe.
Following our move to Australia (and a brief stint working for my father-in-law's construction company), I worked at Konica Minolta, where for the last five years I headed up a team of seven product marketing managers.
[caption id="attachment_4751" align="aligncenter" width="820"]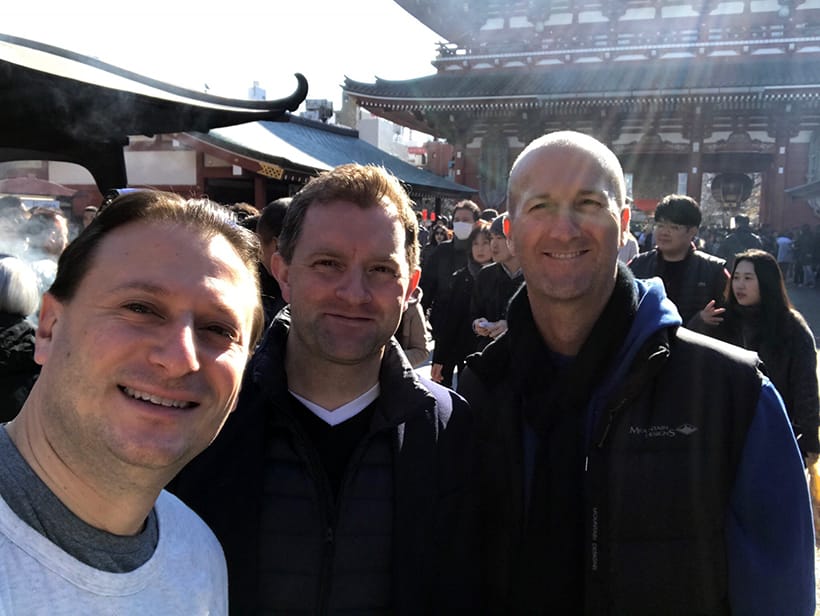 Chris hanging out in Japan with Konica Minolta's Dino Pagliarello and Mark Brown[/caption]
What's your role at PaperCut?
My fancy title is "Channel Marketing Manager", which means I develop marketing programs to support our global Authorized Solution Centers and resellers. Our partners really are the heartbeat of PaperCut, and I'm focused on providing as much value as I can to them. That's it in a nutshell.
What attracted you to PaperCut and the role?
Having worked with the PaperCut team during my time at Konica Minolta, I know the quality of the team and the product. That was a major attraction, along with the opportunity to work for a software company after spending all my career with hardware manufacturers.
The global nature of the role attracted me, too, after spending the last few years focused solely on the Australian market.
After working in corporate environments for most of my career, the relaxed and casual nature of PaperCut is also very refreshing.
What are you looking forward to most here at PaperCut?
I've seen the company grow significantly since my first dealings with Dan [Quest] and the team back in 2013 and I'm looking forward to playing a valuable role in helping us to continue to grow.
Having worked for a PaperCut reseller, I understand the challenges and opportunities that resellers face. I'll apply this knowledge when developing marketing programs to support our channel. Hmm, I'm starting to sound like I'm in a job interview!
What are the biggest opportunities you see ahead of you? What challenges are you ready to conquer?
The biggest opportunity in my role is to increase the number of highly engaged resellers. While I have my own perspectives on the challenges faced by resellers, I'll be reaching out to our ASC partners over the coming weeks and months to collect their perspectives and to understand their markets.
What are you passionate about?
I'm also excited about the huge leaps we're seeing in technology at this time and advocating for the value this will bring to businesses and communities. It's an exciting world and industry we're in.
[caption id="attachment_4756" align="aligncenter" width="820"]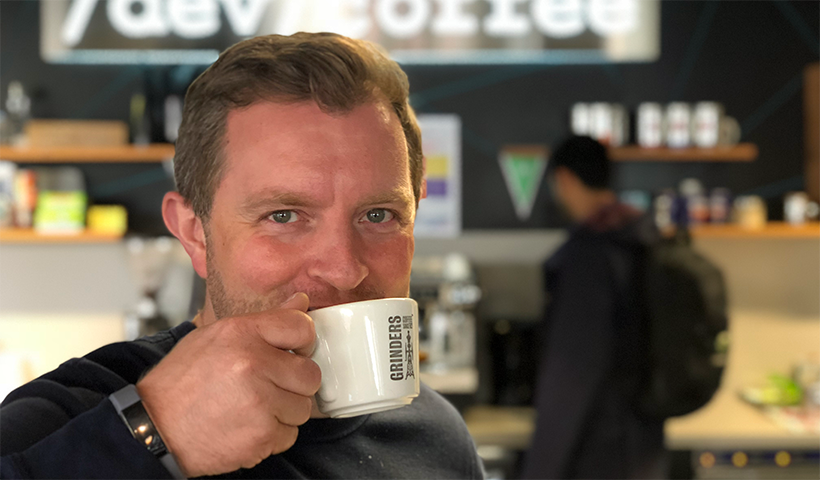 Chris and his coffee in PaperCut's /dev/coffee cafe[/caption]
How do you like your coffee?
I'm a flat white or piccolo fan.
At home we only buy locally roasted beans from some of the great coffee roasters that are popping up in Brisbane. Following my PaperCut barista training, I'm hoping to perfect the art of making both coffees and giving my wife a coffee she'll love (and not the dish swill I currently serve her).