For [Black History Month](), we've been having regular conversations about systemic racism in the United States. As part of these discussions every day this month a different Portland PaperCutter has shared a story highlighting a Black STEM superstar.
These heroes included: [George Washington Carver](), [Lisa Gelobter](), [Kimberly Bryant](), [Euphemia Lofton Haynes](), [Alice Ball](), [James Edward Maceo West](), [Katherine Johnson](), [Mae C. Jemison](), [Elijah McCoy](), and [Benjamin Banneker]().
To tie a bow on our celebrations of black excellence we had a chat with our own STEM superstar. Meet Andy, the newest member of our Portland Support Team. He spoke to us about his experiences as an African-American male growing up on the west coast of the United States.
Tell us a little about yourself. What's your background? Where did you grow up?
I spent my early years in Medford, Southern Oregon, and it was complicated. It's a different world in Medford and it really shaped who I am today. It's a very white part of Oregon and also rather conservative, so it helped me see the world in a different way.
I was really glad when my mom moved us to Portland around the time I started middle school. It really helped my self-esteem by being around more people with my skin color. I was the only Black American in my school while I was in Southern Oregon, so it was hard to fit in.
Even in my teenage years, it was really obvious; that switch from Southern Oregon to Portland. When I was in Southern Oregon, I thought it was normal to only be around white people. I was the only Black kid. But coming to Portland showed me how that's not normal – I just didn't know any better. But I survived! I'm here.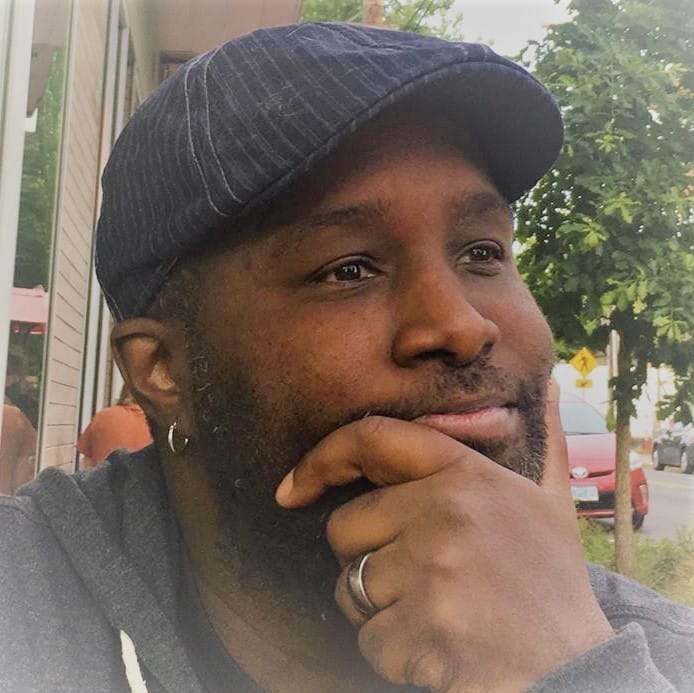 Considering life's big question: console or PC gaming?
What kind of community have you found here in Portland?
It's not something I sought out, but my community I have now is something I was slowly assimilated into. I was so used to living in a white world, right?
So I wasn't expecting to see any other people of color around, so moving to Portland opened my life up to new experiences. And I wouldn't say I have a community per se either. Before my circle of people was really narrow, but in Portland, the kind of people I met was so open and varied.
Do you have a memory of when you first identified yourself as Black American?
As a Black American growing up in Southern Oregon, it was always really obvious that I was different and that my skin color set me apart from everyone else. People treated me differently.
Even if I identified as white or any other culture, the way I was treated by other people wouldn't have let me think that for that long. Just based on the way people treat me, I can't think of identifying with anything else other than African American.
My mom and I have had conversations about how I would be treated differently growing up, but she and I had very different experiences. I think it's mostly based on gender differences between her and me.
Growing up as an African American male, it was hard to talk about the unique experiences I was having, even with my dad - especially going from Southern Oregon to Portland. I was bullied and teased growing up in my neighborhood for things like having black hair. But it was hard to articulate, I just knew I was looked at differently and I had to grow up learning not to let that bother me.
I have not thought about it in a while to be honest because it doesn't affect me as much anymore.
How has your career or experiences with the world shaped who you are today?
You know that is a really fascinating question! In most of the other places I have worked, no one has ever asked me about my African American experiences. And none of the other places I have worked celebrated Black History month [BHM]. And actually, BHM wasn't something we celebrated in Southern Oregon – not until we came to Portland.
So this question makes me realize how refreshing it is to see PaperCut taking an interest in celebrating BHM, even discussing it. Just the fact that you're asking me questions like this is really awesome. It's cool that someone is asking me about this and taking an interest.
I will also say that my career and experiences have taught me to be kind to everyone! You never know if you'll run into, or work with people you meet during your everyday life!
Did you have a historical figure or mentor growing up who you looked up to?
Yes, I mostly admired [Malcolm X](). I credit him for raising my self-esteem and connecting with my African heritage. He stood out because he was so strong. It was powerful to see him advocating for African culture and standing up to the establishment. I felt he was clear about what he stood for and what he didn't. His message felt simple, it was, "We contribute to society too. Why aren't you recognizing that?"
I thought Malcolm was more vocal and did it in ways that [Dr. King]() couldn't for that time. I listened to King, and for some reason, he didn't resonate with me like Malcolm X did. But for different people, different approaches work, right? Malcolm X just worked better for me. I know history likes to cover Dr. King more because he wasn't so inflammatory. It's easier to teach Dr. King's way to younger kids in school.
---
Last August [we posted a blog announcing a new initiative at PaperCut]() – our Portland-based working group DEIB (Diversity, Equity, Inclusion, and Belonging). This project was born out of our position on [Blackout Tuesday](), in response to [the death of George Floyd](). We made that stance as a formal statement of our commitment to combat systemic racism, through organizational change, within PaperCut.
Since first forming, DEIB has expanded into chapters at our Melbourne and London-based offices. The work is still underway, but already we are seeing development towards improving diversity, equity, inclusion, and belonging for our company's present and future.
One of the ways we are doing that is encouraging conversations and visibility of the issues that inspired the formation of DEIB. Part of our vision for contributing to a better world is not shying away from the realities of the current world we live in.
We're sure being featured in a blog on such a delicate subject matter isn't what Andy was expecting when he joined our Support team.
We don't have these conversations at PaperCut to virtue signal or wag the finger. We have these conversations so that we continue to live our values of being caring and honest by acknowledging the problems PaperCutters have experienced firsthand, as these are global social issues that our DEIB groups are passionately working on.
A better world is not going to be an overnight fix achieved with one blog post, it's an ongoing conversation.
Thank you to Andy for letting us join that conversation by sharing something so vulnerable and brave, and allowing all PaperCutters to learn through hearing his personal experiences.
Feature image: Malcolm X and Martin Luther King Jr's only in-person meeting on 26 March 1964 during the Senate debates on the [Civil Rights Act of 1964](). Source: [Wikimedia Commons]().