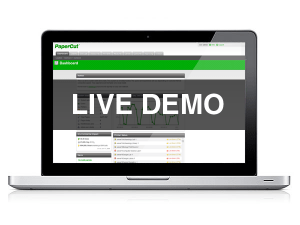 This is a short behind-the-scenes blog post about our new Live Demo .
We've always striven to minimize the barrier-to-entry to adopting PaperCut. We've worked hard since day one (1999) to offer an application that's easy to install and to evaluate (direct downloads, unlimited feature trials, full support during trial).
However there has always been one barrier we've been unable to "engineer out" - that is the install itself! To get a full feel of PaperCut you need to invest the time to download and install on your production server, or set up a test system. Not any more!
PaperCut is now available as a live demo, allowing any prospective system administrator to take the core print management features for a test drive. For the non-browser features such as print policy popups (on the workstation), we've put together a set of complementing YouTube videos . If you have a few moments, take it for a drive here .
---
Want to know what's happening behind the scenes of Live Demo? Here's a summary of the setup:
It's a standard PaperCut install on Linux backed by MySQL .
The server is hosted on a IaaS Linux VM instance at Rackspace .
The install is preloaded with sample data generated from randomized US census names and many of the print document names we had fun making up!
Videos were captured with the help of Camtasia Studio
The Live Demo project has not only produced benefits for those doing evaluations, but it's also helped out all our existing customers. We've spent quite a bit of time optimizing PaperCut for cloud servers - servers with higher-than-local round trip latencies. Improvements include:
More aggressive HTTP caching
HTML, CSS and JS gzip compression
These performance gains, among others, have made their way into the latest releases. We have a few sites that now host their PaperCut installs on servers hosted in remote data centers (aka private clouds :) ). These sites will should see some good performance improvements in the administration and user interfaces.
If you have any other ideas on how we can make it even easier to get a feel for PaperCut, please let us know in the comments.