It might be eye-opening for some of you to hear what goes on behind the scenes at PaperCut Software. My name is Mathew Buttrey and I have joined the PaperCut team as Channel Manager.
In particular you might like to know what it's like to start employment at PaperCut. Coming from large organizations with strong corporate culture (most recently the worlds largest consumer electronics company) this was sure to be a shock to the system… Here's what I've learned so far……
Lesson 1 - No suits!
Even in the interview a comment was made "thanks for dressing up" (even though I'd taken my tie off to feel a little more at home).
Lesson 2 - Drink coffee…..
Although not a mandate, coffee culture is strong within the team and with 2 free rounds per day, there are good savings to be had for a 2 latte per day person like yours truly.
Lesson 3 - Leave your pride at the door…..
PaperCut operates with a flat management structure which allows for fast paced and collaborative planning/execution of tasks. Being part of a team that has input (and believe it, there is a lot of input) on your content creation is certainly an adjustment for the pride department!
Lesson 4 - Get FIT!
Don't be fooled, the people you see on our about page look harmless enough, but commute to work with them and an underbelly of pushbike heros surface! 3 days after the first commute and one can still barely sit down.
[caption id="attachment_2218" align="aligncenter" width="420"]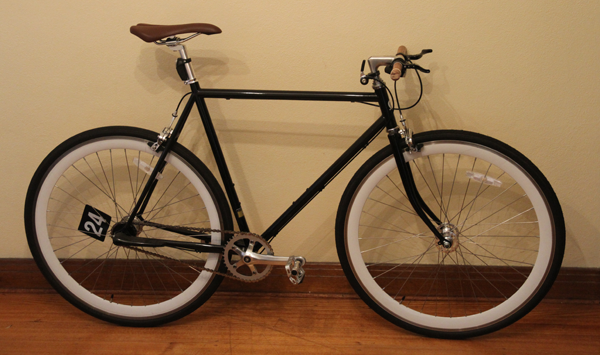 Tom's hipster machine.[/caption]
Lesson 5 - Brush up on geography!
If you didn't know the world before, you sure will. Google maps is a requirement most days due to our far reaching partner network (Hi to everyone in Rancho Cucumonga!!).
Lastly - Have fun!
A good sense of humour is mostly required - even if the jokes about code tend to fly over one's head.
Feel free to keep this list on hand if you ever have the opportunity to spend some time with the PaperCut team - In summary, remember to brush up on your coding jokes, check your pride at the front door but remember to bring your bike shorts!!