Mobile & BYOD printing
Bring Your Own Devices (BYOD) and mobile devices are now accepted as playing an essential role in many organizations and are here to stay. However, providing printing support across the various available devices is challenging because there are many competing technologies with no standardization. Current BYOD printing solutions are problematic because:
there are lots of choices

they might not be compatible with your printing infrastructure or are difficult to integrate

they keep changing.
PaperCut's solution for mobile and BYOD printing is a product called Mobility Print. It can be installed on its own or work together with PaperCut NG/MF.
Other technologies that PaperCut NG/MF supports are:
PaperCut NG/MF provided technologies

Native mobile print technologies
PaperCut NG/MF provides you with the freedom to design your print network to suit your specific needs.
Mobility Print working either standalone or with PaperCut NG/MF works for most organizations, however, all of our printing solutions meets a particular need so you can choose which solution best suits your environment. If using Web Print is the right answer for you, PaperCut NG/MF will continue to directly integrate with this service. If your users are more comfortable with emailing, Email to Print is the right choice. More options means a solution more likely to fit into your design.
At a technical level, it's important to understand your IT infrastructure requirements and the impact your choices have on your data and security policies. The following table will help you choose the right mobile and BYOD print strategy for your organization.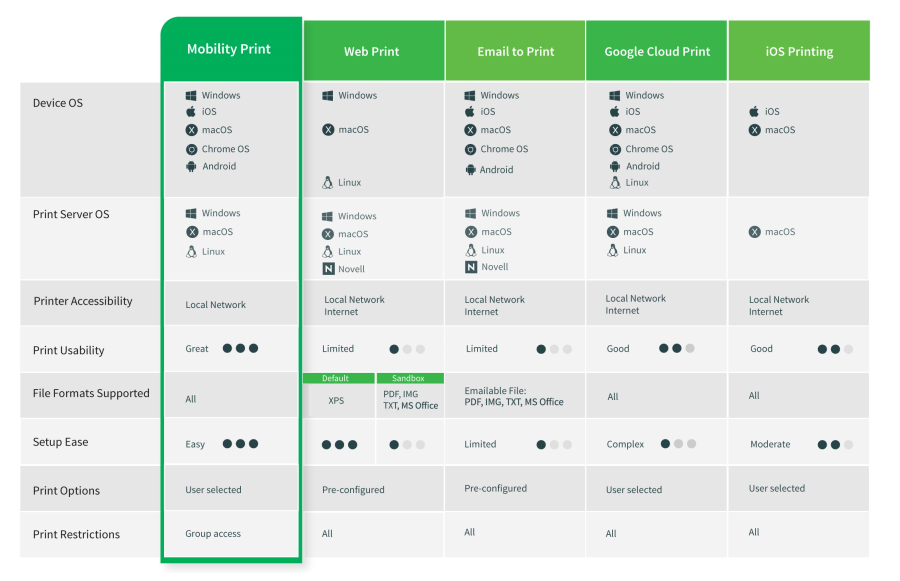 Detailed information on each technology is provided in subsequent sections.
Technology benefits
Technology
Benefit
Mobility Print

Mobility Print

delivers network print services for iOS, Windows, macOS, Android, and Chrome devices across mixed fleet environments. It allows both managed and unmanaged devices to securely print to any printer on your network.

Mobility Print

is easy to set up and allows users to select from various print options and print all file types. It provides a native printing experience across all platforms.
Web Print (driver-less printing via a web browser)
A simple web based experience suitable for any BYOD laptop or Netbook users. End-users upload their document via a standard browser form. No special or client print driver setup required.
Email to Print
A lowest common denominator, and simplest solution that works on any device that's able to send email attachments. PDF, picture files or Microsoft Office document attachments are converted to print jobs.
iOS printing (iPad & iPhone)
iOS provides users with a native and mature print experience on iPhones and iPads. Users can select various printing options, such as copies and grayscale, and can print from many applications without the need for additional software. Users can use

PaperCut NG/MF

via the

Mobile web client

app.
Common questions that come up during planning
Do I have to turn on all of these mobile solutions at once?

No. It's best to pick the ones that are suitable for your environment, and perform a controlled rollout of the new feature.
Email to Print works with all platforms. Why would I not just implement this?

This is a viable option and one that many organizations adopt. Our recommendation is to look at native print options first where possible. The benefit for native print options is that they offer a richer and more familiar end user experience.
What does it cost to add BYOD features to my PaperCut installation?

All BYOD features are included in the standard PaperCut license. There are no additional licensing costs.
I want to allow printing, but I don't allow mobile devices to connect to our network. Is there an option?

Email to Print works without requiring users needing to connect to your network.
Does Mobility Print work at a site with a Site Server rather than an Application Server?

Yes! You can set up Mobility Print on any Windows secondary server, including sites with a Site Server instead of an Application Server. However, there must be a connection between the Site Server and the Application Server for Mobility Print to work.