Cloud-native print management with MFP embedded software, brewed with IoT and Edge Mesh
PaperCut Hive journey
In early 2020 PaperCut Pocket Beta was released to the world - the first product built off our cloud-native print management platform. Our cloud journey continues with its big brother, PaperCut Hive.
PaperCut Hive brings a few big-league delights for cloud-ready businesses looking for a serverless solution:
MFP/MFD touchscreen software linked to the cloud
A variety of secure print release options from proximity ID cards, to mobile phone release
Visibility and control of print, copy, scan, and fax
... and of course, all the magic in the cloud platform you see in PaperCut Pocket such as Edge Mesh, IoT thinking, and cloud-level security.
PaperCut Hive with our partners
PaperCut Hive is our premium cloud-native product that is fully supported and jointly developed by our global partner network.
We`ve been working together with partners to get PaperCut Hive in the hands of real customers. Why? Because they're really good at breaking things!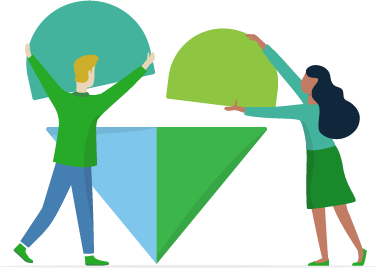 Let's pop the hood. What's inside PaperCut Hive?
It's built from the ground up with shift-left security
Cloud brings convenience. However, it may also raise questions about how your business documents transit through the internet. But don't worry - your important print data actually never leaves your office.
How do we do this? By using some of the latest innovations from the IoT world, such as Edge Mesh technology. Leveraging the edge, we deliver speedy performance, privacy, and low latency.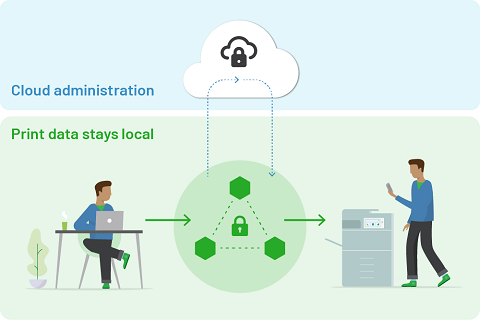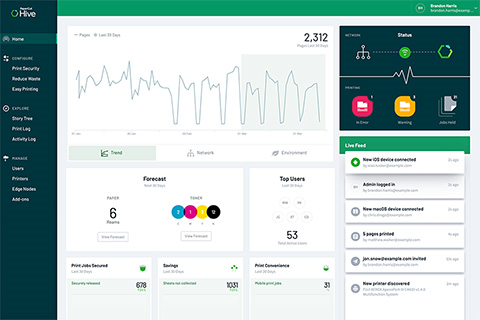 Making real print management easier with the cloud
Enterprise-level print management has traditionally been complex to deploy. Cloud makes this easier. In the old world, there were many moving parts like security, BYOD, mobile printing, and MFP embedded software. By leveraging cloud technologies, PaperCut Hive brings all this into one centrally-managed product. It also frees you up from the costs of acquiring and maintaining on-premise print servers.
We developed a feature set appropriate for small to medium business. We're adding advanced add-ons and more functionalities every day to open up to larger enterprises, and niche markets.
Reimagining printing with MFD cloud-connected touchscreen software
PaperCut has always been known for choice. We support all print vendors, operating systems, and device types; from phones, laptops, and Chromebooks, through to even Linux servers.
PaperCut Hive is no exception here. We've worked hard to ensure we support the technology breadth we find in the real world, while keeping it secure and working in the cloud. We already have cloud-connected embedded MFD touchscreen software for almost all major printing brands, and we're continuously adding more.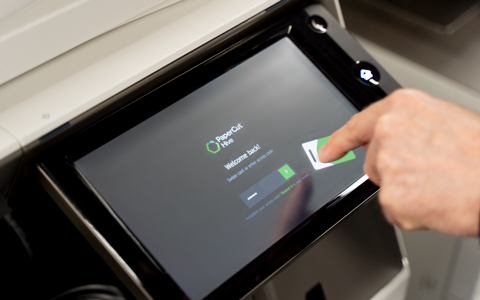 Co-creating with partners and customers
We have been working with our partners globally to mature our cloud platform. We love telling stories, so grab a coffee and read what we've been up to.
NOV 2017 – ROASTING BEANS
The first line of code was written
Once upon a time, in the olden days of 2017, we assembled a dream team of product engineers to rethink print management software. We combined our cloud and mobile experience with our learnings from PaperCut Views and Mobility Print.
We weren't building a product, though. We started by building a code base for an entire cloud platform that would build the basis of our future printing products. Inspired by innovative technologies such as Edge Mesh and IoT, we have engineered some really cool stuff.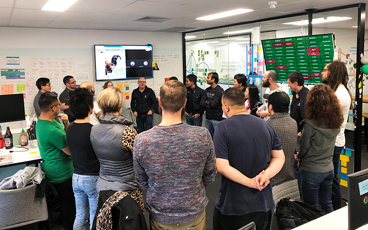 JUL 2019 – PERFECTING THE BLEND
The PaperCut cloud native platform is released to the world
The first product off the new platform, PaperCut Pocket, was released to the world for real customers. PaperCut Hive is built on the same platform. PaperCut Pocket has helped us to mature the whole platform with real-life day to day printing.
A massive thank you to everyone who joined the initial beta stages, helped us round off the feature set and find all those hidden bugs.
Learn more about the PaperCut Pocket Beta.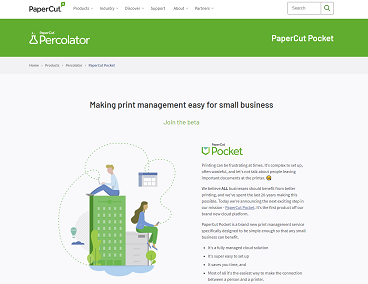 JUL 2020 – POURING MILK
The PaperCut Hive beta is on test drive
While PaperCut Pocket is our cloud espresso, PaperCut Hive is our more robust double-shot skinny latte, and it's currently going through degustation with our partners.
At the time PaperCut Pocket was pushed out to early customers, the team had already started building PaperCut Hive with our global partners.
We've been working closely with a number of printer manufacturers to bring cloud-connected, MFD touchscreen embedded software to the platform. We've completed this for most major printer brands and are now working with real customers who are using the software in real life.
Thanks to our partners who have helped us identify these early beta testers.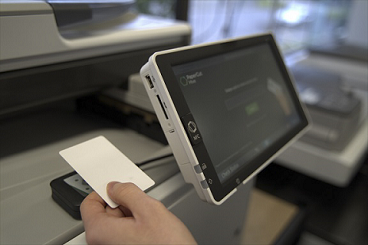 2020 – MAKE LATTE ART
May the cloud force be with you!
Making great software is about continuous effort… it does not stop with a beta release or any other release. We'll always be working closely with our partner network to make PaperCut Hive and PaperCut MF an ideal choice for all cloud-ready organizations, no matter the industry.
The technology is also just half the story - great customer service and a well trained global partner network makes it whole.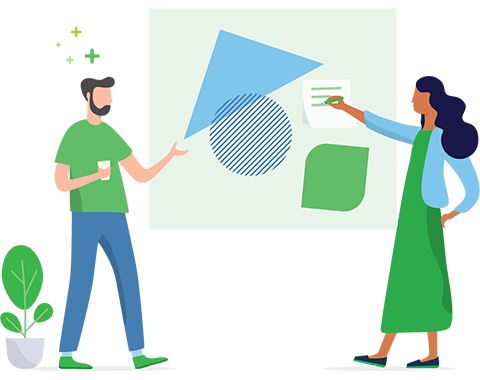 Building and testing cloud software during lockdown
Building a software while working remotely from home, wasn`t easy. We had our challenges, but on the positive side it really helped us to focus, accelerate our productivity, and experience the same needs as users who also moved to working from home. This drives us to shape a true cloud product that enables people to print from everywhere, to any printer, at any time.
Atiqur Rahman
Product engineer lead in the cloud platform team
FAQs
You've probably got a couple of questions on your mind right about now. We've done our best to answer the most common ones right here.
How can I try PaperCut Hive and become a beta tester?
While we've started beta testing very focused and working with a number of experienced resellers and OEM partners, as beta testing progresses we'll look for more coverage and real end-user customers looking for server-free printing.
If you're an early adopter and enjoy "test driving" on the edge, and have the time to hang out with coding geeks :), follow the Hive Beta journey to stay updated when we reach the next phase. When we start testing with customers we may be able to link you up with one of our approved partners who can facilitate the on-device installation and testing.
What Operating systems are supported?
As a collective group we love all operating systems equally. But you wouldn't know from the passionate debates that some of our devs have. At the time of release we will support cloud-ready printing to all operating systems (Windows, Mac, Linux, Chromebook, iOS, and Android). So users can print from any of these devices and operating systems.
Admins can also track printing, scanning, and copying with PaperCt Hive online dashboard, without the need for a print server. There is also no dependencies/requirements for third party cloud printing services such as Google Cloud Print(GCP) or Microsoft Universal Print.
Which printer brands does PaperCut Hive support?
Printer choice is in our blood as much as coffee. PaperCut Hive supports printing via almost all printers and MFPs (including specialty printers including wide format printers and production printers).
We also have touchscreen embedded apps for most major MFP/printer/copier brands for secure print release with swipe/ID card at the MFP, authentication, and copy/fax/scan tracking.
We've already finished embedded apps for most major brands and they are in beta testing in the percolator program. We're adding more brands as you read this.
It might take us a little while to reach the same level of coverage as our flagship product PaperCut MF but there's only so much coffee a software engineer can take in a day. :-)
Do you offer technical support while in beta?
Yes. And gold-plated support at that! Our beta testers are super important to us and many of our beta customers work directly with the dev team during this period. PaperCut Hive is also a product that has the full support of our global partner network. Our partners are also working with us to support beta testers during this period.
Is PaperCut Hive like a cloud version of PaperCut MF?
Yes and no. PaperCut MF is our flagship product that is packed full of features and functionality, and its feature set allows it to be used across all industries, all organization sizes, and network setups such as private cloud and on-premise.
PaperCut Hive`s feature set is initially focusing on small to medium-sized businesses that want to eliminate print servers. Over time, PaperCut Hive will gain more and more features. PaperCut Hive is like PaperCut MF in that they both support printer/MFD touchscreen embedded software.
How can I buy PaperCut Hive and how much will it cost?
PaperCut Hive will be available for purchase at the end of the beta period (beta testers will receive a complimentary subscription for six months). Our global partner network will be able to provide quotes and recommend the most appropriate subscription for customers.
Do I need a print server to run PaperCut Hive?
There's no need for a print server as the local Edge Mesh and Cloud Node eliminate the need for it. The print job is replicated within computers in the local network and only the print document details, such as number of pages and who printed it, travel into the cloud. Take a look at the security-related FAQ bellow to learn more about data security.
Will the print job contents go through the cloud? I'm worried about speed and security.
This is where the magic of Edge Mesh technology comes in. We've taken some of the latest innovations from the world of IoT (Internet of Things) and brought them to the printing world. With PaperCut Hive you print locally and print jobs never leave your network.
This means that printing is just as fast and just as secure as it's always been. If the customer has a requirement to support off-network printing, all you need to do is enable the 'Cloud Node' feature. It allows print documents to be printed via the internet and collected on site.
What is Edge Mesh?
Edge Mesh is a technology that is becoming increasingly adopted in the latest IoT (Internet of Things) systems.
The Edge part means that certain computational actions are done locally within a device for performance and security reasons.
The Mesh part refers to multiple devices working together in a coordinated and cooperative fashion. A mesh of many devices is much more reliable and powerful than a single server with a single point of failure. The more devices the better, so it's also self-scaling.
From a printing perspective, Edge Mesh means your documents remain local. Security and printing speed are not affected by limitations in your cloud bandwidth. There are other benefits as well, such as, the intelligent mesh is able to take over the print server role so your printing can continue even if your cloud is down.
What are the advantages of cloud-based print management? Why cloud?
By having print management software in the cloud, you can:
eliminate the cost of acquiring a print server
eliminate the cost of maintaining a print server
reduce IT overhead
eliminate risk of print server hardware and software obsolescence
eliminate costs of upgrading software on the print server
get worry-free automatic updates on PaperCut Hive and PaperCut Pocket cloud based web admin console
access and manage all of your print via the cloud from anywhere with a web browser
save time from setting up and maintaining a print server