We sell PaperCut Hive through authorized partners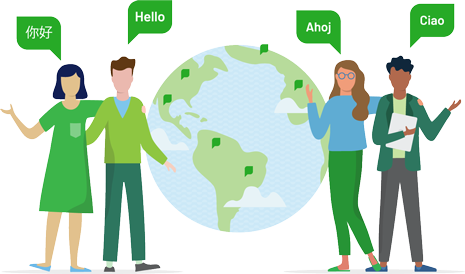 THE POWER OF A PARTNER NETWORK
Available through our authorized partners
Many of our customers have complex environments and require local expertise.
We supply and support PaperCut Hive through a group of trusted and authorized partners. They work with resellers located in your area and can speak your language to provide you with peace of mind, knowing that you have local support (if required).
Let's get you going with PaperCut Hive
Get in touch and we'll help you find the right partner
For the best possible customer experience, PaperCut has partnered with trusted Authorized Partners in each region. They will help guide you in the selection and activation of PaperCut Hive.
Or, select your region to find a Partner:
How do I purchase PaperCut Hive?
You don't! You subscribe. 😉To ensure a seamless start of your subscription and activation of the PaperCut Hive embedded Apps for your Multifunction devices (MFDs), we offer PaperCut Hive through our network of Authorized Partners and their Authorized Resellers. In many cases, the company that supplies you with your copiers and MFDs will also be able to supply and support your PaperCut Hive solution.
If you find this isn't the case (or not an option for you) drop us a line and we'll point you in the direction of an awesome PaperCut partner to support you.
What's the benefit of subscribing to PaperCut Hive through a reseller?
It's a question we get asked a lot. The answer lies in the embedded functionality on each of the Multifunction Devices (MFDs). Because each business has a unique mix of software and equipment we've found your business can get the most out of PaperCut Hive with the help of a local partner who will understand your requirement and prerequisites.
This is where our worldwide network of Authorized Solutions Centers and Resellers comes into play. These PaperCut experts will help you activate your PaperCut Hive organization and get your devices humming.
What do I get when I purchase?
Purchase? Who purchases cloud products!? We're subscribing now! After your order is placed, our speedy licensing team will work with your reseller to turn around the order and send back activation instructions via email.
Wha's the pricing for PaperCut Hive subscription?
Papercut Hive is cloud software sold on a recurring subscription, our pricing model is based on the number of MFDs set up with PaperCut Hive at your location(s). To get accurate pricing get in contact with your local authorized PaperCut Hive reseller.
Is Maintenance & Support included in my subscription?
Absolutely, we include support for your PaperCut Hive embedded apps on your MFDs in your recurring subscription.
How do I get my PaperCut Hive cloud software upgraded to the latest version?
The magic of the cloud means you're always experiencing the latest version of PaperCut Hive. This means you have access to all the new fancy features and updates as part of your subscription. Less time spent on updates and upgrades. Woohoo!
What happens if I change copier/MFD/printer brands?
That's absolutely fine, PaperCut and your PaperCut Hive subscription are vendor-neutral. You can swap MFDs at any stage and move your PaperCut Hive MFD embedded Apps across to your new devices. We suggest connecting with a PaperCut Hive reseller to support you with the transition.
Can I use my PaperCut Hive subscription for multiple sites?
Sure thing, you can activate the PaperCut Hive embedded app on MFDs across multiple locations.
What if my question isn't answered here?
If you've got a sticky situation that needs some extra attention, let's figure it out together. (Probably over a coffee or two.) Please send an email or get in touch.