Managing your users
🔎 Find this feature in the admin interface: Manage > Users
This section explains everything you need to know about how to add new users, remove users, or check details about users who are currently part of your organization.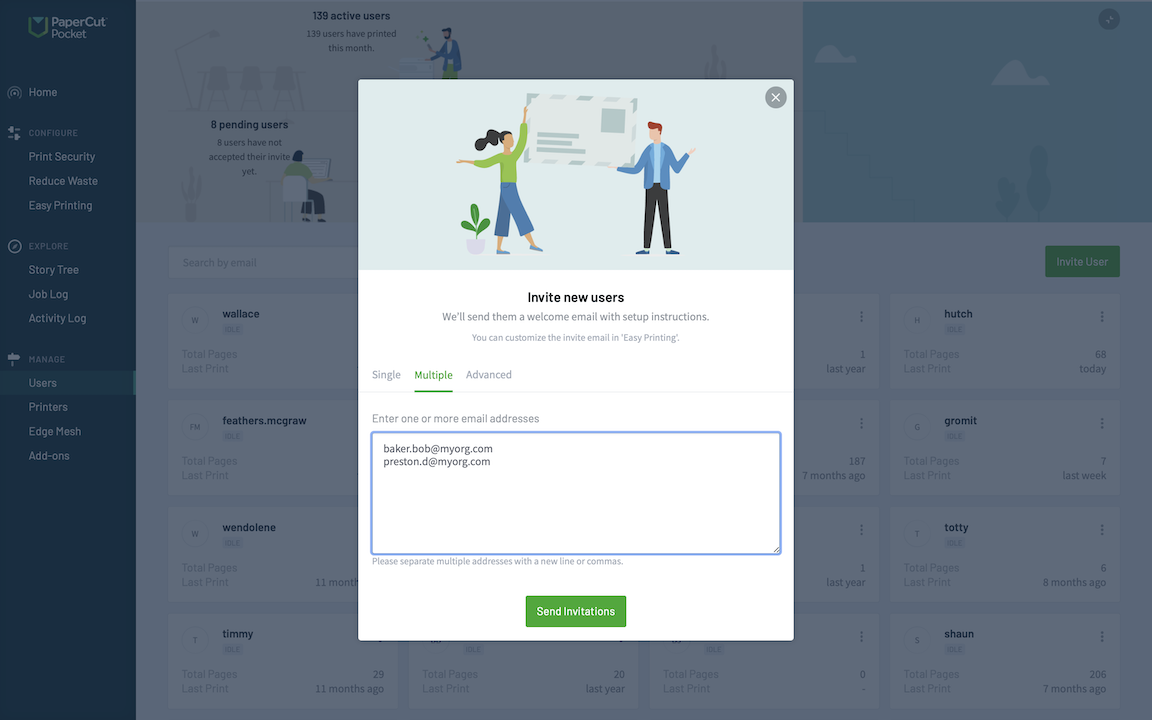 Adding users
To be able to print through PaperCut Hive or Pocket at your organization, users need to have the PaperCut Printer installed - and have the option to install the mobile app too.
Their journey begins when they receive an invitation email. It can be sent either manually by an administrator or automatically if you have set your instance to sync with an add-on, such as Azure AD or Google Workspace.
Manually adding users
In the admin console:
On the Users page, click Invite User.
Enter the user's email address, or if you'd prefer to add users in bulk, click the Multiple tab and paste the list of email addresses.
Click Send invitations. The user will receive their email invitation, which contains instructions on getting setup. 
Automatically adding users
In the admin console, go to the Add-ons page to set up automatically syncing with a directory service such as Microsoft Azure AD or Google Workspace.
User/team self sign-up
If you have attached labels to your printers for secure print release, these can also be used to allow users and guests to request printing access by simply scanning the QR code. Configuration of this feature is available in the admin interface under Easy Print & Scan > Team Signup.
Setting up printer or MFD access for users
A user's access code is included in the user's invite email and they use it to:
log in to the embedded software on a compatible MFD (PaperCut Hive only)
register a swipe card at an MFD (PaperCut Hive only).
You can also set up users to use their access card (swipe card) to log in to a printer or MFD to release their print jobs.
Find all the configuration details in Managing user access codes and access cards.
Re-inviting users
Suppose a user deletes their invitation email, finds the setup link has expired or is unable to find it in their inbox. A PaperCut Pocket or Hive administrator can reinvite the user.
To send an invitation again, open the Users list, select the ︙ vertical ellipses next to the user's name, and select Reinvite.
Removing users
To remove or delete users from your organization, select the ︙ vertical ellipses next to the user's name, and click Remove. The user will no longer be able to release print jobs, or print using PaperCut Pocket and Hive at your organization.
User details
There are two ways to view user details on the Users page: as a table or as individual cards. You can toggle between these views.
For more in-depth user information, click on any user to view information like:
the user's email address
the date they were added to PaperCut Pocket or Hive
the status of their activity
statistics on their printing (including last print time) and other analytics
their access code and registered swipe cards.
About user statuses
The status of the user is also visible on the Users page:
| Status | Description |
| --- | --- |
| ACCESS REQUESTED | This user has requested printing access. Admin to approve or deny their request. |
| INVITATION SENT | This user has been sent an invitation with setup instructions but hasn't completed setup yet. |
| SETUP COMPLETE | This user has completed setup for PaperCut Hive or Pocket. |
To quickly find users with a certain status, you can use the Users page filter.​​​​​​
Managing users - frequently asked questions (FAQs)
Can I convert a regular user to be an admin?
Visit our managing admin access page for information on managing administrator access.
Do users have to have access to the web interface for PaperCut Pocket or Hive?
No - at the moment there is no 'user web page' for PaperCut Pocket and Hive. Only administrators need to log into the web interface to manage their organization. Having said that, this might change in the future. Watch this space :)
Can I sync my PaperCut Pocket or Hive users with Google Workspace, or Microsoft Azure AD?
Yes, users can be provisioned from both Microsoft Azure and Google Workspace (G Suite)! Have a look in the 'Add-ons' section from the PaperCut Hive admin interface to get started. Let us know if you've got another user directory you'd like us to integrate with.
Does syncing users with Microsoft Azure AD require Azure Active Directory Domain Services (AD DS)?
Nope! Our Azure AD add-on does not require a Secure LDAP connection or the purchase of Azure AD Domain Services. We sync our users with Azure AD using SCIM.
Can I delete multiple users at once?
From the PaperCut Pocket or Hive admin interface you can delete one user at a time. Our product team is keen to hear from any customers who would benefit from a bulk delete option. If this is you, please let us know.
Can a user use the same invite to set up PaperCut Pocket & Hive on multiple devices?
You can use PaperCut Pocket & Hive on multiple devices with the same user. As an end-user, you'll need to go back to your email invitation and re-download the installer because it's unique every time you download it. It won't work if you download the installer once from the email link and then copy it to your other machine.