Managing (adding and removing) users
🔎 Find this feature in the admin interface: Manage > Users
This section really does what it says on the tin - here's where you can invite new users, remove users, or check details about users who are currently part of your organization.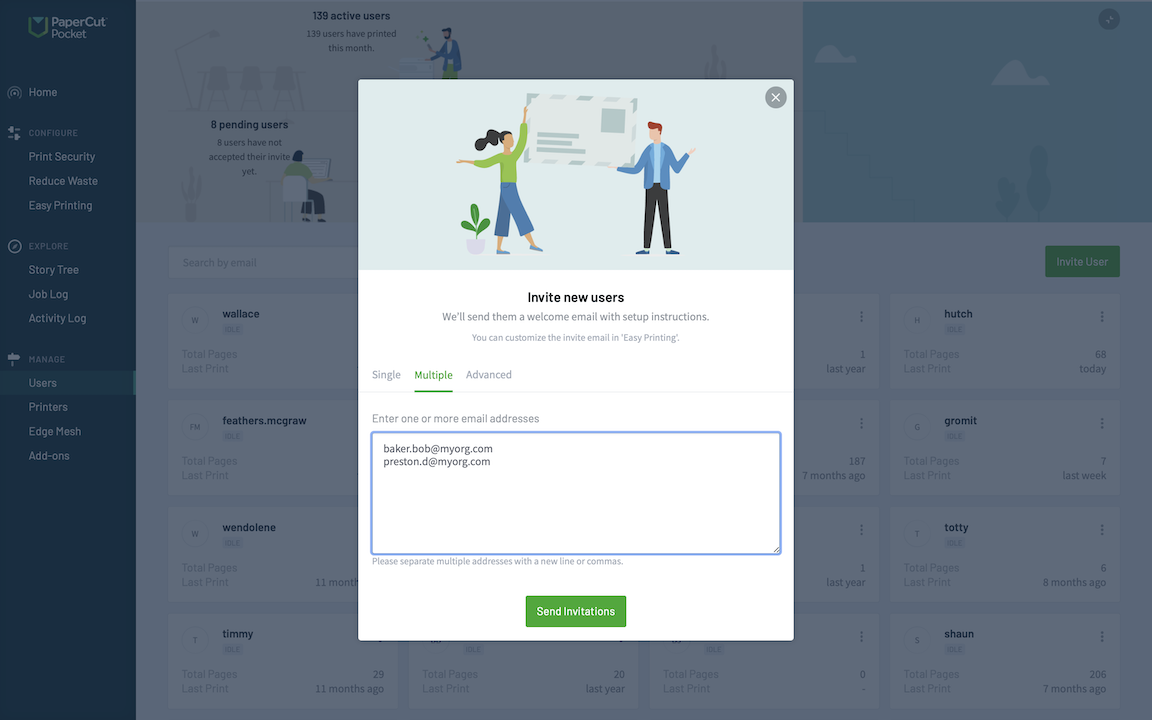 Adding users
To be able to print through PaperCut Pocket or Hive at your organization, the new user needs to have the PaperCut Printer installed - and will (most of the time) need the mobile app installed too. Their journey begins when they receive your SysAdmin invitation email - and you can send that literally at the touch of a button - the Invite user button on the Users page.
Add one or more email addresses and hit Send invitations. The user receives the welcome email with instructions on installing the laptop/PC software and mobile apps. Simple!
You can also 're-invite' users. Suppose they misplaced their invitation email - select the ︙ vertical ellipses next to the user's name and select Reinvite.
Adding other administrators
To add another administrator to your organization, you'll need to hop over to [Click your profile picture top right] > Settings > Administrators. Use this section in exactly the same way as the users section to add or remove administrators to/from your organization.
Note that when you invite an administrator to an organization, they do not automatically become a user in the organization. In fact, their first step as a newly minted administrator is to invite themselves to the organization - so that they can go through the same setup process as a non-admin user.
Removing users
To remove or delete users from your organization, select the ︙ vertical ellipses next to the user's name, and click Remove. The user will no longer be able to release print jobs, or print using PaperCut Pocket and Hive at your organization.
User details
Click on any user in the 'User' page to see more detail about the user, including:
email address
date that they were added to your organization
status of their activity
print statistics (including last print time) and other analytics.
The 'status' of the user is also visible on the user list. This gives you a quick visual indication of how active a user is:
| Status | Description |
| --- | --- |
| Pending | This user has been invited to the organization but has not completed the setup steps yet. |
| Active | This user has been actively printing in the last 90 days. |
| Idle | This user has not printed anything for at least 90 days. |
Hovering over the status also gives you a little more information - like when the user was invited, or when the user last printed.
Managing users - frequently asked questions (FAQs)
Can I remove the admin permissions from a user?
Yes! If the person appears as a regular user of the organization as well as an administrator, simply remove them from the administrators section: [Click your profile picture top right] > Settings > Administrators
Can I convert a regular user to be an admin?
You will need to invite the user as an 'administrator' under [Click your profile picture top right] > Settings > Administrators.
Do users have to have access to the web interface for PaperCut Pocket or Hive?
No - at the moment there is no 'user web page' for Pocket and Hive. Only administrators need to log into the web interface to manage their organization. Having said that, this might change in the future. Watch this space :)
Can I sync my Pocket or Hive users with Google G Suite, or Microsoft Azure AD?
Yes, only for Microsoft Azure AD at the moment. Google Workspace (G Suite) will be coming soon! Have a look in the 'Add-ons' section for the latest news (under Manage > Add-ons), our devs are busy being fed coffee for the next add-on.
Does Microsoft Azure AD User Sync Add-on require Azure Active Directory Domain Services (AD DS)?
Nope! Our Azure AD integration does not require a Secure LDAP connection or the purchase of Azure AD Domain Services. We sync our users with Azure AD using SCIM.