Extending with print scripting and APIs
It's time to take print management to the next level. How about promoting more thoughtful printing? How about integrating with your favorite business system? Introducing PaperCut NG/MF's powerful scripting and APIs.
It couldn't be simpler to bring your ideas on solving wasteful printing or integrating with your business systems to life.
Powerful, yet simple, Print Scripting
Our built-in filters and restrictions are ready to go to help you get control of your printing. Want to automatically convert to grayscale, restrict certain users from printing in color or limit large documents from being printed to a desktop printer? All of these and a whole lot more are built right in and are as simple to use as checking a box.
Want to take things to the next level? Want to only apply a restriction to a certain group of users? Want to give users the option to convert to grayscale? All of these, plus a whole host more is available with our powerful, included as standard, Print Scripting.
We've got recipes to help get you started, and a powerful JavaScript editor for those who fancy diving in the deep end, all with the goal of making users more aware of their printing and helping you reduce your overall print cost.
Recipes:
Displaying a popup message if a user forgets to select duplex on large jobs
Automatically directing jobs to more efficient high volume printers
"Go Green" with environmental warnings
Discount printing during off-peak
and it doesn't stop there, start exploring Advanced Print Scripting for yourself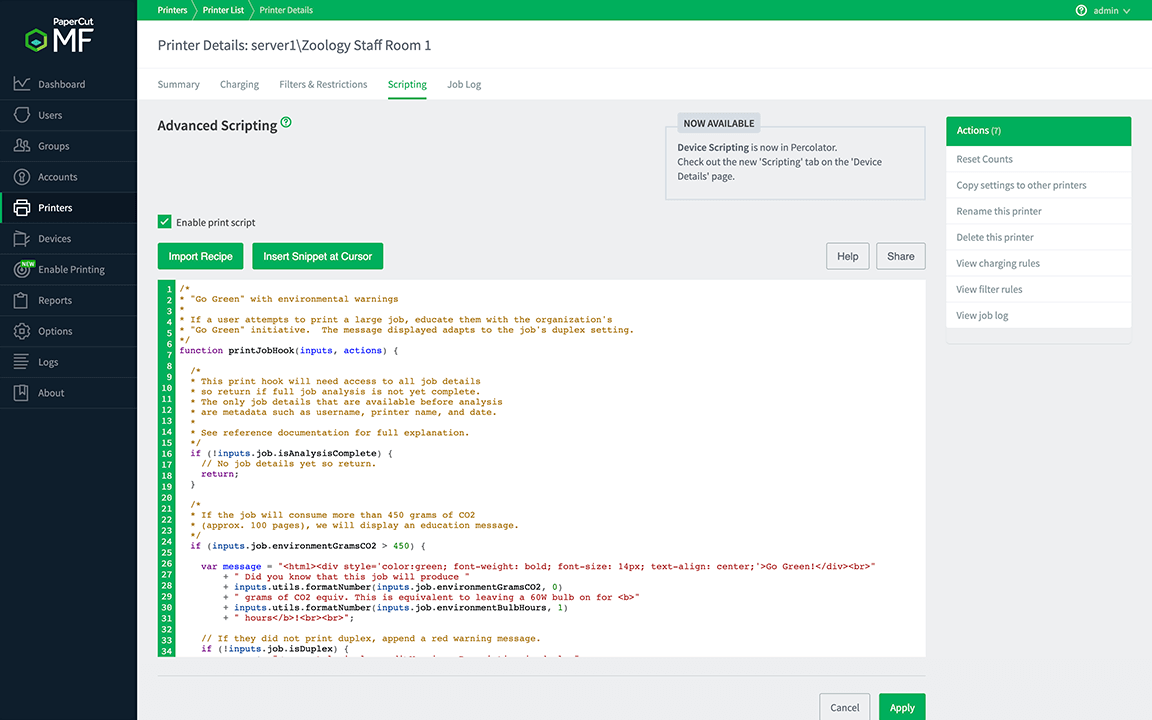 It doesn't have to stop at the print queue...
PaperCut MF doesn't stop at the print queue. We've got your MFDs covered too. Device Scripting makes you the gatekeeper of better copying behavior, flexible pricing, and a whole lot more.
If you can think it - scripts that do everything from limiting color copying, to restrict shared account selection - all in no time, and with no hassle. (We've also got our intuitive JavaScript editor to let you tweak to your heart's content too.)
Let your imagination run wild and dive into Device Scripting now.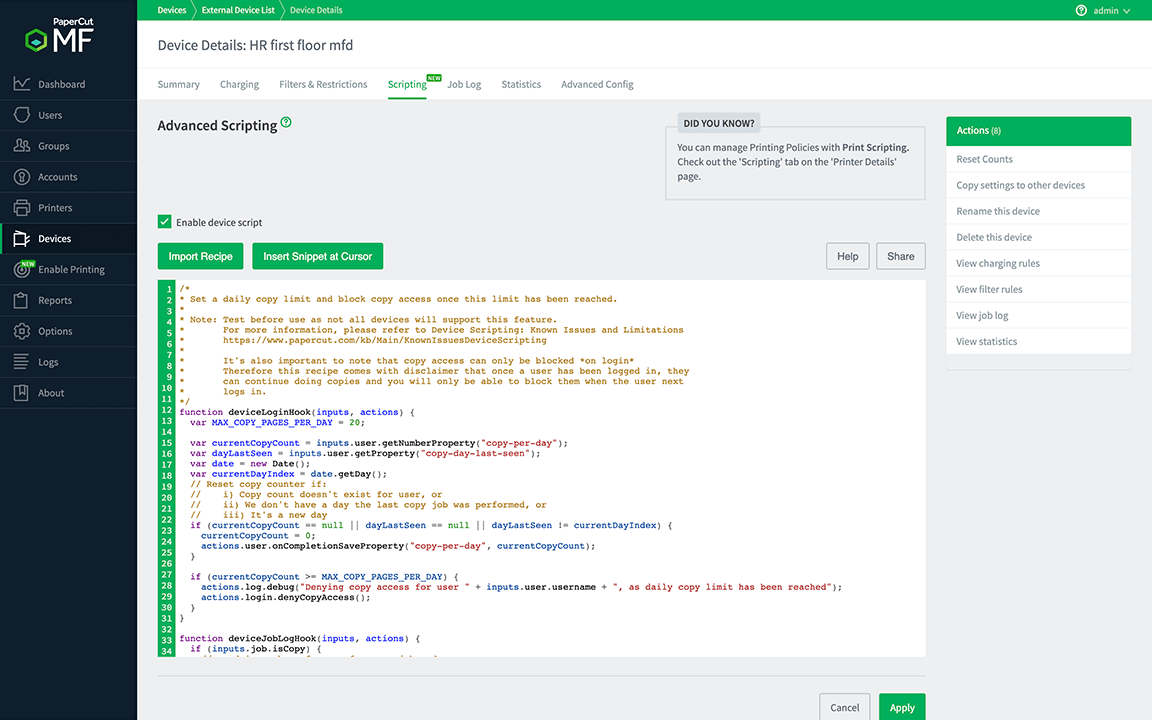 It's time to integrate...
If you're here then you're ready to go beyond the walls of PaperCut MF and NG and create a truly integrated solution. Let your imagination go wild and harness our extensive set of APIs to solve almost every challenge you can think of.
Included as standard in all of our products, we've got a wide range of APIs to help you make your dreams become a reality. Not a closet developer? Don't worry, we've got a worldwide network of Authorised Partners with some seriously skilled teams who can help you.
Now just think of the possibilities…
Syncronize your accounts directly into PaperCut NG and MF (client/matter, project codes, department codes)
Seamlessly update user card numbers from your door access system.
Accept print account top-ups from your favorite payment gateway (Paypal, RBS WorldPay, Heartland, and more...)
Harness on-demand payments in collaboration with your Campus Card System (Blackboard, CBORD)
Automatically import and authenticate users against your custom directory
Posting printing transactions to your billing and accounting package
Want to know more...?
Get started with our Web Services API, our most popular integration tool from simple scripts to complex network programs.

Explore our other APIs if you need to create something a little more specialist.