[caption id="" align="alignnone" width="630"]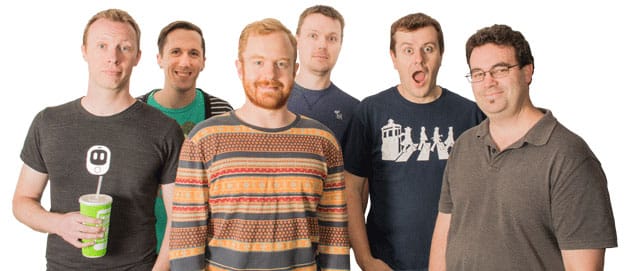 Pictured above some of the cross-continent team: Tim (Portland), Josh, Peter (Melbourne), Ross (London), Jason, Shane (Melbourne)[/caption]
System Auditing
Our support team are at the front line, hearing and reporting customer feedback that results in new feature development, enhancements and bug fixes.
One common request is visibility for the Sys Admin into who or what action caused a user's profile to be altered. It can be frustrating for them when a user profile has been changed without their knowledge. Previously this typically required debug level logging to be enabled at the time of the event. To solve the problem, PaperCut Support needed some basic data on the changes (date/time/user etc) and often this information wasn't available, making diagnostics a minefield.
The 15.1 release of PaperCut brings significant enhancements to Audit Logging . Now, at a click of a button on the dashboard, any PaperCut Sys Admin (with sufficient privileges) is able to pinpoint the source of changes to users. At a glance, an Admin is able to analyze the scope of the problem to see if it extends beyond the single user or not. Customers can now create internal processes to factor in the transparent accountability for any user configuration changes within PaperCut.
Now the support team has a very different approach to solving these problems. Let's take a look at some:
A law firm's users had zero balance
Recently, Josh from the Melbourne support team got a call from Ed. He manages PaperCut across three sites across Australia for his Law Firm. Ed had come into work that morning and no one could log into their copiers. Who made the change?
Legal Firm Ed: Help PaperCut support!!! What's happened?
PaperCut Josh, before 15.1: If you have debug switched on in PaperCut, and there hasn't been much activity, we can analyze your logs to see what happened. If there's been a lot of activity overnight though from your other sites, we may have missed the window. We can still try and help fix the problem.
Now with user Audit Logs, here's how it would go:
PaperCut Josh: If you click on the Audit Logs tab, and use the filter at the top of the page to search for a user you know is experiencing issues, you will be able to see the changes made to this account everything was OK yesterday. In this case, we can see an external system has made a change to this user's balance. If we check a few more users and this is the common story, it's likely your practice management system has had a problem setting quotas to your staff.
Playing detective when it counts
The ability to audit changes made to users within PaperCut is an important security feature when administration of the application is centralized and shared. You can see who's made the change, the date, the previous and current value, and the description to provide total accountability for changes made to any user over the last 30 days (Configurable to larger or shorter timeframes where needed).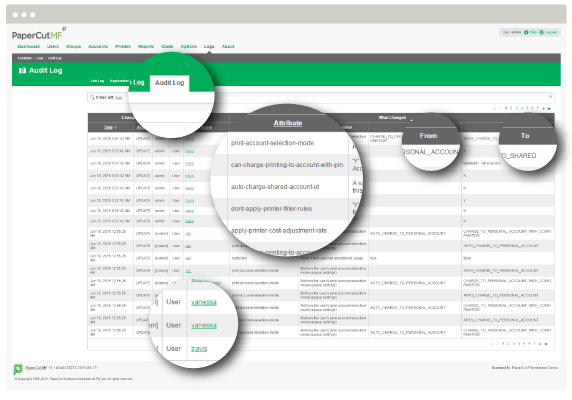 The Audit Log tab, showing changes by user, attribute, change from and to.
A student at a multi-campus university had unrestricted printing
Ross from our UK support team got a call from Simon, a Sys Admin at a London based university. He couldn't work out why one particular student had been able to print posters on a large format printer, unrestricted.
University Simon: We have a student that is printing and running into deficit. It appears the student has become unrestricted.
PaperCut Ross, before 15.1: Send in your last log files, and we can try and find out what changed and where. We will analyze the thousands of lines of logs in the text file to find the answer. You did have debug switched on, right?
University Simon: Ah, no…
With user Audit Logs, Simon would get to the bottom of the problem pretty easily:
_University Simon: _Checks the__ Audit Logs to find out how this student's account was altered, by whom and when. Simon thought it was a user account changed by a single Admin, but it was more than Simon's account it was an entire faculty. A number of accounts had been altered by an update pushed from another system.
Self help when you need it
Just like having our PaperCut support team in house, System Audits puts you back in the drivers seat to be able to resolve problems that affect your users, instantly or guided by the team at PaperCut Support. They're here around the clock (check out what we're up to right now) at our new contact page .
See all the latest in 15.1: