[caption id="attachment_622" align="alignright" width="250" caption="Just a minute!"]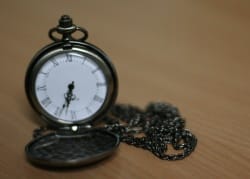 [/caption] We've recently had a few people contact us via Twitter and email asking about the 10.5 release. We're running a little late behind schedule, however this is for good reason. This is likely to be our largest release in terms of features yet. Hence testing and feature finalization is taking a little longer than expected. Some of the highlights in the release include:
Watermarking: The ability to add some text to the bottom of every page printed. This text is configurable in terms of content, font-size and color. Typical uses include:
adding student names or student numbers to the bottom of their print jobs
writing job metadata in the footer such as print time, printer, document name, etc.
Multiple Personal Accounts: It will now be possible for users to have more than one personal accounts. This feature has been developed in conjunction with Cambridge University in the UK. A typical use would be splitting student cash payments and free print quotas into separate buckets to make refund management easier. However in large organizations such as Cambridge it can be used, in conjunction with print scripting , to allow different departments/groups/colleges to manage their own print credits on their own printers.
Re-sending data after connection failure: We've added new code to handle exceptional cases such as network connections failing between servers. For example say you have PaperCut installed on a business WAN with print servers spread across geographic regions. If the connection temporarily fails between offices, PaperCut can now be configured to locally record transactions and re-send them across when the connection comes back up.
All the three features listed above have been on the top of the vote list for many months. It will be great to have them released. And don't forget that we'll always include in many, many minor improvements and bug fixes.
We're working hard to get the release out next week and will keep you posted on progress via our twitter feed .