[caption id="attachment_1336" align="alignright" width="300"]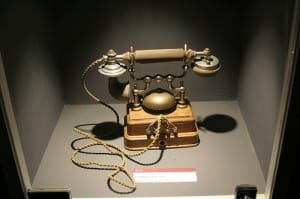 Ye Olde Support System has been archived for posterity[/caption]
I sometimes find myself sitting on the fence between 'customer' and 'technical support'. It was not that long ago I was an IT manager for a reasonable size high school here in Melbourne, Australia. One thing that was always on my mind was the quality and timeliness of support available from software and hardware vendors. It was no good getting fast support that didn't resolve my issue and nor was it useful having accurate support that took 5 working days to get back to me. Good quality support is important!
Typically support ticketing at PaperCut has been managed by various different systems depending on the mode of contact (email, live web chat, or phone). We've grown rapidly over the past few years and now have tens-of-thousands of customers and hundreds of support emails a day. Our primary support system was a home grown set of Python scripts married with our mail system ( exim ). It's served us well but we collectively decided it was time to look around… Our Analysis Our first wish list item was a centralized system with both Live-Chat and email ticketing. Too often we had customers jump on our easily accessible (and therefor timely!) Live Chat system and say "About that ticket I wrote in last week. I have an update." This meant we had to jump into another system, search around for their email address, checking various queues. What if it went to sales instead of technical support, thats another system again!
Other objective we had was to "learn from others". Given that the wheel has been made, remade and improved on, why not ask around and find out what's in use. We have a large user base, many with their own help desks (e.g. Universities) and also many resellers who have support systems in place. We started asking around!
We soon came away with a fairly large list of candidates ranging from Bugzilla through to OTRS , my old favourite RT and some of the new comers such as ZenDesk and Kayako . From this list we had to whittle down the candidates to the point where would sign up for trials and spend the time to test them out. We dropped those systems that were bug trackers, CRMs, Project Management tools and we certainly dropped those that haven't been updated since 2007! A live web chat feature was also important so this again this allowed us to rule out a few.
We were left with the following candidates, ZenDesk , Zoho Support , Smarter Tracker , Kayako and Cerb5 . In no particular order:
ZenDesk - The licensing for ZenDesk was a small barrier for entry in that is was inflexible and was a tiered approach. We like simple pricing. We also couldn't demo the Live Chat functionality which was disappointing. After spending quite a bit of time in the demo version we were reasonably happy that we would be able to get things working with the help of the ZenDesk team.
Zoho Support - While Zoho Support did not come with inbuilt Live Chat it did have integration into Zoho CRM, a product we already use. The Zoho Support module appeared to be quite new and was still very much in-development. We did notice that there was no automated SLA functionality. Overall not a bad impression but it certainly didn't wow us.
Smarter Tracker - Smarter Tools' ticket tracking system appeared quite mature, had good inbuilt reporting and documentation was quite thorough. While there was no Native SLA process we could possibly build something with "Events". Overall very good.
Kayako - Has in-built Live Chat (that requires a Windows only download) module, Native (and powerful) SLA processes. Ability for customers to login and manage their organization's tickets (i.e. John Citizen from AcmeCo can see Jane Smith's tickets!). We can turn Live Chat's into tickets quite easily and the Live Chat function has a remote desktop function called OnSite (uses VNC essentially). The initial setup was quite an undertaking but in the end we were pretty happy with results.
Cerberus Helpdesk 5 - My impression was that Cerb5 seems to have some really excellent features and some features that just need a bit more polish. There was much talk about a Live Chat function but it never bubbled to the top of the list for development. Our impression was that development was not as quick as some of the other options.
And the winner is… After more testing we found ourselves coming back to Kayako more and more. In the end, the Live Chat and OnSite combination was excellent. Customization of the installation via the templates was equally good. Quite possibly what sold us was the Live Chat -> Offline Message -> Ticket Process where if we're busy on the phones, a customer can leave a message that we can get back to with quickly.
So with all that said, we've implemented the new system. As with all IT projects there are bound to be some hidden issues but we'll work hard to ensure PaperCut's print management software support moves along as usually - just with a bit more polish on the inside!