Each day when we walk in we see a big single word written on the wall of the office. That word is simply "PaperCut". It seems to set the tone of our day as we're always trying to think of new ways to save paper! In version 12.4 we've introduced yet again some new ideas.
One of the popular print script recipes is Print Policy Enforcement . This recipe takes the "stick" approach and discourages bad behaviour with popups that appeal to your environmental conscience. We thought it's time for a " carrot "! In this new release, we've added a new recipe to recognize good user behaviour through printing achievements. One of these achievements is shown below, for 10 consecutive days without printing simplex (double-sided only).
[caption id="attachment_2052" align="aligncenter" width="500"]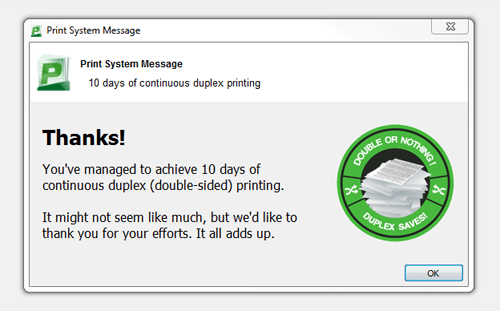 New PaperCut Duplex Achievement[/caption]
This is one of a number of achievements which provide both a popup (as above) and a user achievement record for administrators to review. If you're looking for a fun way to encourage saving paper, consider enabling this new recipe and combining it with a prize for perhaps the first five achievers. This recipe has been made possible using some new features added to the scripting environment - the ability to store and retrieve data.
In other news, you would have seen the releases from Apple and Microsoft this month; Mac OS X 10.8 (Mountain Lion) and Windows Server 2012, respectively. We've decided to be fashionably late to the industry release party, but bring presents for both celebrations with 12.4 officially supporting OS X 10.8, and we've also rolled in a few features such as XPS printer language support as part of our ongoing work to leverage new features in Windows Server 2012.
For our technology geeks we've got native Windows 64-bit support integrated with our core installer, which will auto-detect the system architecture. As always, we have a plethora of new enhancements, bugfixes and tweaks that you can review in our release history.
Of course there is much more. Check out the release history for PaperCut NG and PaperCut MF for full details.