[caption id="attachment*1385" align="alignright" width="300" caption="Darts and iPads - There's an App For That"]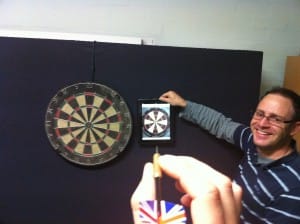 [/caption]PaperCut 11.4 is now available for download. Along with a swag ( bindle? ) of enhancements and fixes comes a very simple but very effective feature: print release delegation. This is so that teacher assistants can release print jobs on behalf of teachers, or for personal assistants to release print jobs on behalf of others. It was also one of the top requested features, so we're glad to be making it available.
Behind the scenes at PaperCut we have four new staff. Two Aussies: Will and Tom B, and two Americans: Nate and Cari (just to keep the world in balance). Nate and Cari have joined Rick as part of our North American support team. Will is joining our development team and is currently in R&D, and Tom B is working on visual design. Those following us on Twitter will recall an international darts tournament as part of the induction :).
Tom B's joining also marks an important milestone for PaperCut, something inevitable for any growing company: the first time there are two people with the same name. So now if you ask for Tom you might get "which one?" in reply. Tom C would like to point out that you can also ask for "Tom 1" or "the original Tom" if you forgot his name. Luckily we had the foresight to put surnames in our email addresses, so it should be some time before we see a clash there…
If you follow our release history you'll notice that our releases over the last few months have included mostly enhancements and fixes. Part of the reason for this has been a focus on bespoke features for large deployments, working on " Adopt a Feature " requests, and a focus on features for PaperCut MF . Now we are shifting gears and will refocus on development of core features that benefit all users. In particular, we'll be working on support for tracking AirPrint printing (tracking printing from iPads and iPhones), which will be of interest to the sites who are already supporting iPad printing (talk about bleeding edge!).
The full list of changes in version 11.4 can be found on the release history pages: