In the current round of our vote for a feature survey we were seeing one feature mentioned often: the ability to easily restrict who can perform color printing by group. This brought up an interesting discussion in our team meeting. "Yeah, how do you do that?". There are actually several possible ways to do it, such as using a printer script, or setting up one print queue for color and another for grayscale. But the key part was how to easily set this up. Turns out there was no easy way.
So along with out latest release, PaperCut 10.7, we have made it easy: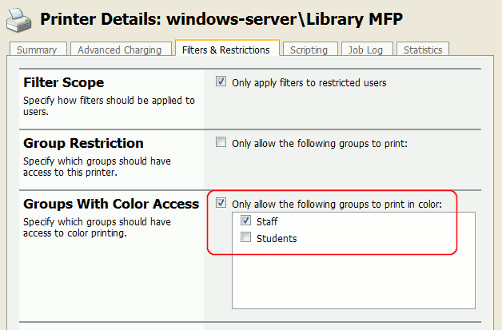 One of the great things about getting your feedback from our feature voting is that you help us decide what the important things are, from the minor tweaks to the major features. Often we have our heads down working on the big new features like watermarking , print scripting and Web Print , when making some quick changes to the basic features would be equally as effective towards making sure we have the best print management software.
Thanks for letting us know what you want! The voting is still open , so there is still time to tell us your wishlist if you haven't had the chance yet.
Also in this release is watermarking support for PCL5 drivers. With our existing watermarking support for PostScript, this checks off two thirds of the major print driver languages. Coming soon: watermarking for PCL6 drivers.
There are also new reports for comparing printing between two time periods (e.g. last month to this month), and many minor improvements.