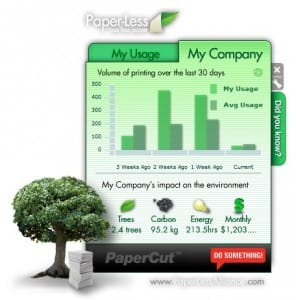 It's been two months since our last release. One of the longest gaps we've had between releases for a long while. This is however to be expected as this is our largest release yet! It's also one of our most innovative, pushing new ideas and concepts. This release contains many big ticket items voted for in the last few rounds of voting:
Watermarking and job attribution
Document digital signatures
Print policy popups
Multiple personal accounts
… and much much more.
New & noteworthy in this release:
Watermarking, Job Attribution and Digital Signatures Adding text such as a user name to the bottom of a page in a print job was one of our most voted for features through 2009 and 2010. We've taken this request and added some of our own innovative ideas to create the new watermarking and job attribution feature. It is now possible to add dynamically constructed text to the bottom of each page (e.g. username), set different font sizes, gray-level and position on page.

We've also extended the watermark to include support for digital signatures using a cryptographic HMAC based on SHA1 or MD5. Every document may have a unique signature which can be used to verify the origin and author of any print job. We've gathered feedback from a number of our larger corporate and government customers to design this feature and are very excited about the new document tracking possibilities it opens. Our view is that print management software should more than just tracking & reporting and we're working hard to innovate is all areas.
Watermarking is currently listed as an experimental feature and currently only supports PostScript printers. Peter is working on PCL support and this is targeted for a subsequent release.
Print Policy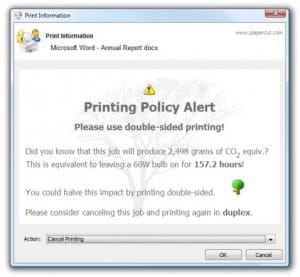 Print scripting now includes a standard corporate print policy recipe. This allows organizations to implement a print policy where:
users are reminded via a popup to print duplex (and must opt-in to print simplex)
printing emails is discouraged
printing web pages in color is discouraged
Multiple Personal Accounts Users can now have more than one personal account. At a simple level, this can be used in education environments to separate free print quotas from cash payments, for example, allowing simpler management and reporting. At a more advanced level, multiple personal accounts can be combined with print scripting to allow different departments to manage their own pot of funds and determine on which devices this pot can be used. This feature has been developed in conjunction with Cambridge University in the UK with the aim of satisfying their complex inter-college and inter-department environment. [caption id="attachment_844" align="aligncenter" width="404" caption="Multiple Personal Accounts - ideal for higher education"]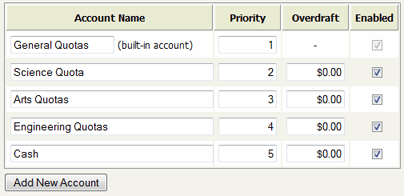 [/caption]
Ad hoc bulk user actions Ad hoc bulk user actions has been one of the top voted for features for the past few months. Priyanka has done a great job and she's worked had to get this into this release.
A new environmental impact desktop widget We've worked with Do Something , the non-profit organization supporting the Paper-Less Alliance , to bring this innovative desktop widget to PaperCut (see screenshot above). The aim of this widget is to help organizations reduce paper by arming users with information. Users can also benchmark their use against the organization average. You can download the widget here .
The widget is also used a fund-raiser. Organizations looking at deploying this widget are encouraged to make a donation of $0.99 per user with all proceeds going through to Do Something to help implement paper saving and environmental initiatives.
Re-sending data after connection failure We've added new code to handle exceptional cases such as network connections failing between servers - for example when PaperCut is used over a WAN. If the connection temporarily fails, PaperCut can now be configured to locally record transactions and re-send them across when the connection comes back up. Read more here .
We hope you enjoy the bag full of new features. We love hearing your feedback so if you have any comments or suggestions please do let us know. For the full list of changes see the release history and get your downloads here . We'll keep you posted about features for the next release on our blog and twitter feeds.