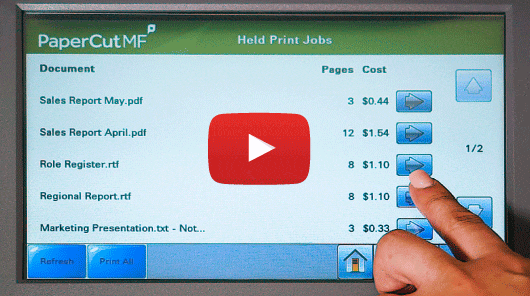 Managing printing, copying, scanning and faxing is even easier with the latest PaperCut MF. Now out of Early Access, update your version to 16.2 for:
Increase throughput with Web Print scaling
Deploy multiple PaperCut Web Print servers, allowing many jobs to be processed simultaneously which speeds up output. Scaling up with multiple servers also builds redundancy into PaperCut Web Print, so there is no longer a single point of failure.
PaperCut MF for the new Ricoh Smart Operation Panel (SOP)
Streamlined workflows are delivered via an all new responsive interface with PaperCut's first Android development on the latest Ricoh Smart Operation Panel devices .
PaperCut MF for Lexmark
The refreshed PaperCut MF for Lexmark eSF interface offers an intuitive user experience for the next generation e-Task devices with tablet-like capabilities. Using the latest Lexmark Embedded Solutions Framework (eSF), users can easily select print jobs and use device functions.
Integrated Scanning enhancements
Users can send emails from a pre-configured selection. Ideal where groups of users share an email account, such as, accounts@ or sales@ and need to Scan to Email.
Available for Kyocera and Sharp customers using PaperCut MF. For more on secure document scanning, visit the Integrated Scanning Tour .
Payment Gateway module
For customers using Online Payment Gateways , if you upgrade to PaperCut NG or PaperCut MF 16.2, you must also upgrade the Payment Gateway module. For more information see Upgrading PaperCut (upgrade procedure) .
Want to know more?
To help you digest all the updates, we've detailed all features, enhancements and fixes, in the 16.2 Release Notes for PaperCut NG and PaperCut MF .