Have you ever printed something confidential then raced to the printer to collect it before someone else does? Secure Print Release is an increasingly important requirement in most organizations. Traditionally this has been accomplished with embedded MFD software, dedicated release stations or specialist hardware.
PaperCut 12.5 introduces a new option for print release that can be used by any organization. It's quick, easy, cost effective and doesn't require a hardware investment.  This is made possible by the touch screen device almost everyone carries in their pocket - the mobile phone.
[caption id="attachment_2169" align="aligncenter" width="500"]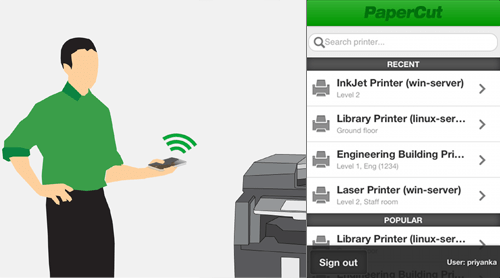 Mobile Print Release[/caption]
With Mobile Print Release you'll no longer have to worry about others picking up that confidential job. Simply print to a hold/release queue and when you're at the printer, release the job using PaperCut's Mobile Print Release app. This new feature will work with any printer, and most modern mobile phones.
How large?
Recently we've assisted with some very large deployments, some of which have had more printers than we ever expected to see at a single site. One in particular had over 9,000! As a result of these projects we have made a number of "under the hood" performance improvements which sites of all sizes will benefit from! Check out the release history for the nitty gritty tech details.
Windows 8
Windows 8 is now officially released. With 50,000 sites running PaperCut it's not surprising that we already have a few organizations with rollout plans. PaperCut 12.5 is our first release to leverage new Windows 8 features. The PaperCut User Client software now has notifications that are prominent on the Windows 8 Start Screen ("Metro").
New Videos
We've also added new videos to our YouTube channel : iOS Printing and an install demo .
As always, there is much more. Check out the release history for PaperCut NG and PaperCut MF for full details.