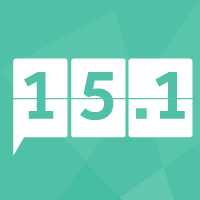 PaperCut 15.1 - released June 2015
Extra security with audit logging
In the new Audit Log , administrators can track all changes made to users in the last 30 days. No more mining ad-hoc log files when a user reports a problem.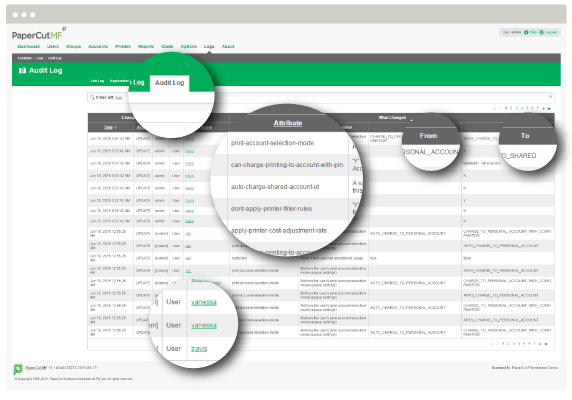 Show logs of changes made to users
Easy document name-hiding
When you require confidentiality of document names in a queue, this simple 'check box' option hides names from users.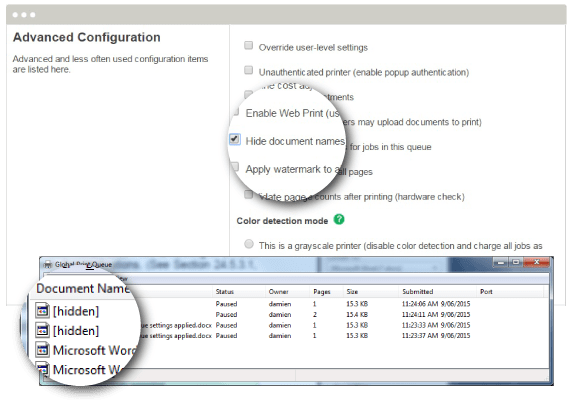 Updated admin screen, along with a print queue showing [hidden] names
Line Printer Daemon (LPD) Service
The PaperCut LPD Service extends support for users of the LPD protocol for Windows Servers.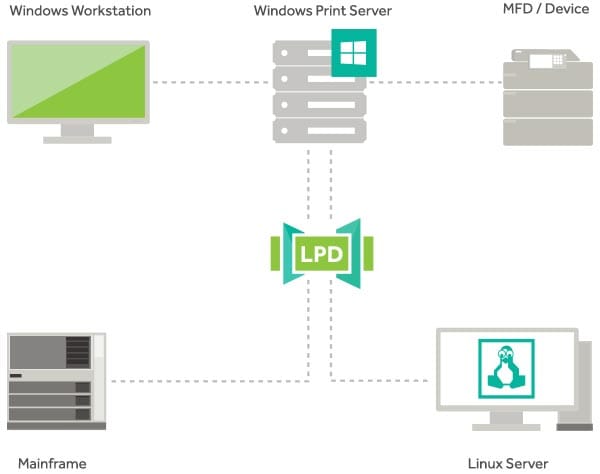 PaperCut LPD integrates the Windows Print Server with multiple clients and operating systems.
Image Support for web and email printing
Now supporting all common picture formats, including jpg, tif, gif and png in addition to Microsoft Office files and PDFs.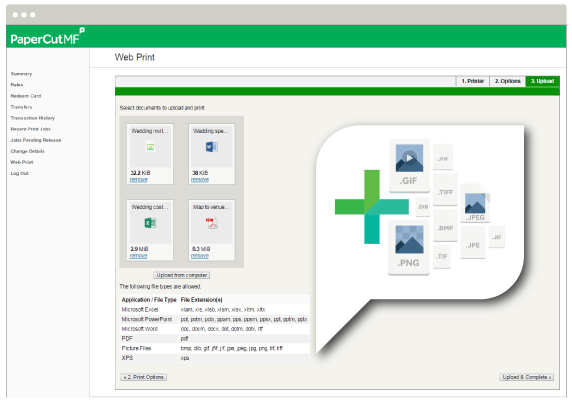 A user web print screen showing file formats
Custom print job time outs
Remove the forgotten print jobs your way. Set the time-out on a job by job basis, based on your own logic and rules with a new print script API.
Updated environmental metrics
We've updated our metrics based on more recent research to show a more accurate reflection of trees. We've applied this across the desktop widget, environmental reports, environmental dashboard and user/admin interfaces.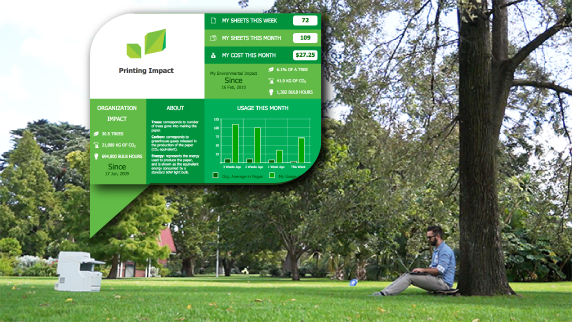 And for our PaperCut MF customers…
Dell A4 embedded integration
Integration is supported for the Dell A4 Color Multifunction Printer - C5765dn.
Xerox EIP 1.5
Supporting the Xerox Extensible Interface Platform (EIP) 1.5 in addition to 1.0 and 2.0.
Want to know more?
To help you digest all the updates, we've detailed all features, enhancements and fixes, see the Release Notes for PaperCut NG and PaperCut MF .