It wasn't a strategic decision to release PaperCut 12.3 around the same time as the Higgs Boson particle was confirmed (we hope!), however both share a universal truth; 'It's often the little things that count'. Usually when we write about our releases we only talk about the big features. It's often the little features we add that end up making a difference to everyday usage. In this post we've decided to highlight one of these little features.
[caption id="attachment_1945" align="aligncenter" width="626" caption="Type Ahead when searching for users by name or student ID"]

[/caption]
PaperCut now has type-ahead autocomplete in various areas of the application. It's now even easier to quickly find users, say to modify their print quota, by typing their username, full name or ID number.
Other highlights include: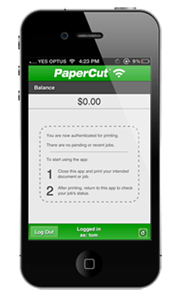 iOS Printing
PaperCut's mobile printing has been extended to provide support for iPhone . The screens have been optimized for the smaller size and swipe-gesture navigation has been added.
Enterprise Deployment
In addition to the existing auto-updating client software deployment, we now have a new option for enterprise customers. There is now a silent installing MSI package which may be deployed using Group Policy. This is ideal for enterprise customers who are already using Active Directory GPOs to manage software deployment or staged rollouts.
Cross-platform Improvements
Many of you will know about our policy for simultaneous releases and feature parity goal across all supported operating systems. One difference between platforms has been printer error detection (e.g. emailing administrators when a printer goes offline). Due to limitations in operating system APIs on Mac, Linux and Novell, printer errors were often detected only when a job arrived, rather than as soon as the printer went into error/offline. By using SNMP monitoring, we have now improved printer error detection on these platforms to match the proactive behavior on Windows.
Of course there is much more. Check out the release history for PaperCut NG and PaperCut MF for full details. And if you're interested in some of the antics that have been happening in the PaperCut office over the development period, or want to see the latest geeky t-shirt; have a look at our twitter gallery .