Our customers have been clamouring for iPad Printing support over the last year as iPads become a staple in many educational and business environments. Our customers have demanded more than just support for iPad printing though, they need the same functionality as desktop users including print authentication, account selection and viewing of print job status. PaperCut version 11.6 delivers this functionality via the iPad app ( screen shots ). Originally this feature set was planned for version 12, but due to demand we have brought it forward as a preview for early adopters - it was one of the most requested features for 2011. Expect further innovation and refinements in the mobile printing space heading into 2012. (Note: The iPad App does not require you to have printers that support AirPrint).
[caption id="attachment_1629" align="aligncenter" width="554" caption="PaperCut's iPad App"]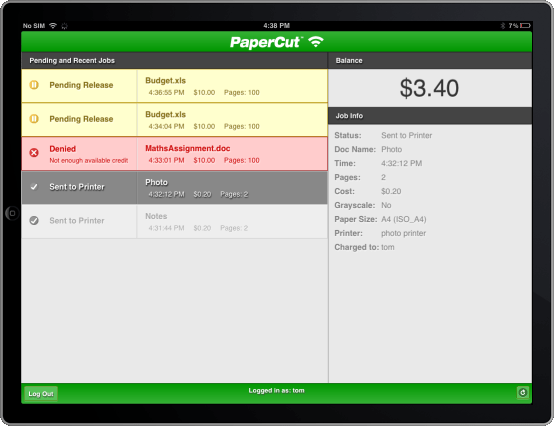 [/caption]
Behind the scenes, PaperCut has added another member to its support team. Those of you who have called or e-mailed in over the last six weeks may have had their issue looked into by Ian, who is based in our Melbourne office. Amazingly Ian is the first member of the team to pass the recruitment process who does not consume coffee . The team is working hard on this issue, and is confident by version 12 we will have rectified this buggy behaviour.
Testing this release has made the older team members jealous as we wished we'd had iPads in school when we were younger.
The full list of changes in version 11.6 can be found on the release history pages: