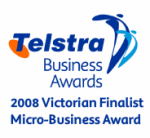 We're very proud to announce that we've been made state finalists in the Telstra Business Awards 2008 .
It's a great honor be a finalist amongst so many other great companies in the country's most prestigious business awards. It is recognition of all the hard work the PaperCut team has put into developing a great printer control product and providing great support to our customers world-wide.
Running a business is hard work, and you don't often get time to reflect on the how far we've come and what we've achieved. These awards have allowed us to do that, and be proud of these achievements.
The winners will be announced at a formal dinner tonight (19th September 2008). The whole team and partners are coming along. It should be a fun and exciting night.
Wish us luck!!
PS: We'll post some photos of the night here next week.