It's Martin Luther King Jr. Day (also known as MLK Day). And with Inauguration day coming up, today's a good day to talk about Dr. King, his immortal legacy, and why we celebrate this legend.
A quick refresher for readers outside of the USA: Dr. King was an eloquent civil rights leader whose nonviolent activism helped push forward Black Americans' right to vote, desegregation, labor rights and other basic civil rights. For many Americans, we also think about the bus boycotts, sit-ins, and the March of Washington, pictured below, where he gave his famous " I have a dream " speech.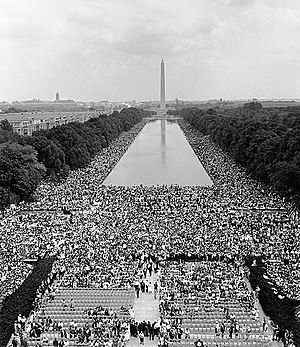 The U.S. capital looked different a few weeks ago, and the message of Dr. King's "I have a dream" speech is why today is such an important day. What better way to start this week than to celebrate a man whose legacy of peace and message of hope could inspire us to come together to move forward.
Can we imagine what words of encouragement Dr. King would impart to our country at this time of transition? What words of compassion and inclusion might he inspire in each of us? And how can we spread that in our communities and organizations?
It's also a good day because MLK Day is recognized as "King Day of Service'', where Americans are encouraged to volunteer service in honor of Dr King. And isn't it amazing that PaperCut gives us two days of PTO to volunteer and give back to our communities?
I hope you're able to safely volunteer some time or resources today to give back to your community – to honor the life and legacy of Dr. King and bring good to our world today.