"We'll write a blog for International Women's Day ," we said. "It'll be fun!" we said.
For International Women's Day this year, we spoke to PaperCutters worldwide about what IWD means to us as individuals and as a business.
Our questionnaire actually got so many responses we needed to split this blog into two parts!
In our previous blog , we looked at the personal and social significance of International Women's Day.
Now we'll focus on what it means in the workplace and what work there's left to do in the gender equality space.
"From the professional, into the personal"
How can workplaces forge gender equality?
"Workplaces have the opportunity to be proactive in promoting gender equality as we can ultimately guide our employees by outlining how we expect our people to treat others and how to ensure they are making fair decisions.
"I think in the context of a business it seems less personal, it's not only women driving the message, but it's also also male leaders and business owners as well, which goes a long way to help our cause.
"We have funds and resources to help tackle inequality issues that still exist, e.g. providing equal opportunity training, reducing bias in recruitment practices, visibility on salary banding, transparent performance evaluations, etc.
"I have seen these types of workplace activities force people to confront some of their own biases that they were previously blind to and make a conscious effort to be better. My hope is that people take what they learn from their professional lives into their personal lives as well. — Laura Paton (Talent acquisition manager)
---
"Create a safe environment for everyone (be it man, women, irrespective of any position). Please do not go by an agenda that we need to hire more women to create gender equality.
"This message is interpreted as women need to be hired to fill in a quota even if they are not up to the mark. It puts a dent on the profile of women hired in the company (though they have undergone the same hiring process) and they would need to spend so much time to prove themselves.
"We want talented people in the company, men and women. What we can do is find ways to attract more women candidates for a job position." — Shalini Sharma (Senior product engineer)
---
"In practical terms, some of the things workplaces can do is:
make sure everyone has equal access to opportunities
minimise gender pay gap
have a fair and consistent evaluation process
revisit their hiring process to check for any biases
give equal access to mentoring for both men and women
educate everyone on unconscious bias
implement practices that support people with families to make it easier for people to juggle work and family commitments."
— Julie Starovoitova (People experience lead)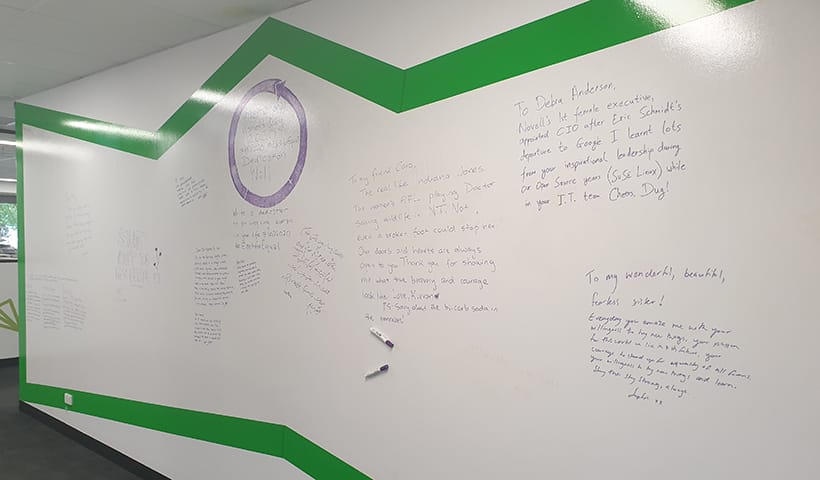 One of our 'Culture Walls' transformed into an 'IWD Dedication Wall'
"Everybody has equal rights"
How does PaperCut support gender equality?
"Our amazing Women Better Together group has helped to bring our women together to discuss some of the challenges we face. Having that reoccurring, constant global support network has been a game-changer in making our women feel supported and not alone in their experiences in the world of work as a female*."* — Dawn Chisholm (People experience advocate)
---
"In my opinion, PaperCut is gender equal. I have not seen anyone giving preferential treatment ( be it man or woman). We listen to everybody's opinion, strive to create a safe place and everybody has equal rights." — Shalini Sharma (Senior product engineer)
---
**"**PaperCut has provided me with many women to look up to. PaperCut embraces female role models and continues to make efforts to champion and encourage recognition of the amazing women in our company.
"Providing things like 'Parental leave' not maternity leave, or paternity leave. This idea enforces the truth that it is not only a women's job to look after children. It allows families to make decisions on the basis of what's best, not what's economically best right now." — Andrew McCrae (Product engineer)
---
"We are very happy to work in an organization, where women and their voices, importance, even existence play a serious contribution. We offer various workshops organised for PaperCut ladies such as SHE leads, ICT women sessions and also, at times, internal sessions run to help all women grow and support each other.
"Women are given fair chances to take part in team activities, meetings, presentations and even being heard by the male peers encouraging us, being empathetic to us.
"Working remotely or a flexible work-life balance helps mothers to spend time with their children and also still be committed to their career duties and growth." — Anshul Satija (Technical support engineer)
---
"Weeks and days like International Women's day help us remind ourselves through various small activities and gestures in the company and makes us feel present here right at the moment!
"PaperCut highlights the importance of diversity and we are currently working on a program to establish/identify any gaps and initiatives to improve equality.
"The WomenBetterTogether initiative helps women better support each other in the work environment. Creating environments to connect within a safe and nonjudgmental environment.
"Lastly, PaperCut actively reviews remuneration to ensure there isn't pay gaps between men and women in comparative roles OR women are being paid appropriately when they come to PaperCut." — Rebecca Ballantyne (Head of global marketing)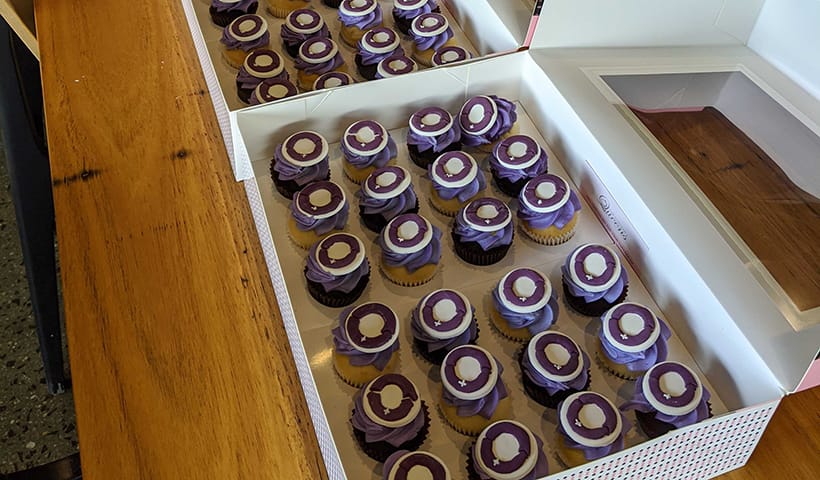 IWD cupcakes for celebratory afternoon snacks
"A human fight"
How can we forge a gender-equal world?
"I'd love to see a world where masculine traits in women and feminine traits in men are not seen to be weaknesses in either and we no longer judge one another for it." — Laura Paton (Talent acquisition manager)
---
"By remembering the wise words of Frieda Pinto - 'gender equality is a human fight, not a female fight.' This impacts everyone, not only women and we need to keep honing in on the global agenda to make this world equal for all". — Dawn Chisholm (People experience advocate)
---
"You do not have to do anything for women to become equal. They are equal in all the ways, equally talented, equally capable. I as a woman do not want any reservation, any special treatment. I behave like an equal and I should be treated as one.
"Men should respect and treat women as equal. For that matter, women should also feel that they are no way less than men.
"Both genders need to change their mindset." — Shalini Sharma (Senior product engineer)
---
"The good news is that we are in 2020 and the world is pretty much aware and evident of the benefits of equal rights for women in our societies. Pushing for equal wages for the same positions at work and sharing household chores at home can help.
"Whether it's offering the bus seat to a pregnant woman, or advocating the installation of children's changing rooms in all bathrooms in shopping centers and asking that companies guarantee parental leave are all vital actions that can help.
"On an individual basis, try to pay attention to your assumptions and know that none of us is immune to making bigoted comments or holding biased attitudes against females be it in our workplace or home or on roads." — Anshul Satija (Technical support engineer)
---
"I think there is unconscious bias, in that men don't necessarily always actively discriminate but unknowingly do it. Continuing to bring this to the forefront, educating both men and women on what equality is, ensuring it's part of ongoing company conversations is a must." — Rebecca Ballantyne (Head of global marketing)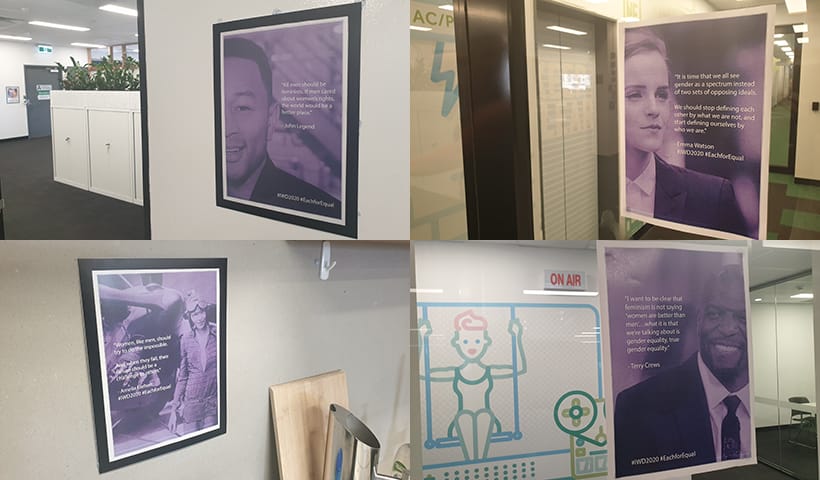 #EachforEqual posters in PaperCut's Melbourne (AUS) office
What does International Women's Day mean to PaperCut?
"In an industry that has historically been dominated by men, International Women's Day is a great day for us to get together and celebrate the women in STEM  who have come before us, the wonderful women we work with now, and hopefully inspire the next generation of women in STEM to come!" — Laura Paton (Talent acquisition manager)
---
**"**It is a day that brings our company together by recognising the amazing women in our lives and our world. It helps highlight a value we often don't lead within our usual conversation, the women here at PaperCut go way beyond the expectations.
"The women in this company are consistently at the front of making our company better. I hope it continues to be a celebration of their efforts and I hope to try to keep showing our gratitude to the women in our lives for more than just today." — Andrew McCrae (Product engineer)
---
"Women in Tech have always been a topic of discussion. Coming from an IT background, I usually get asked If I was comfortable working where the majority of my team are males. I take this as a compliment. I see my male peers help me grow and compete while being affectionate too!
"Women in PaperCut usually get celebrated more often than males haha, I've never seen so many males taking part in ensuring that we are felt comfortable at all times and even in challenging situations. So I love the fact that I am one of the very first female members to join the Melbourne support team.
"Happy Women's Day to all the defiant ladies out there! — Anshul Satija (Technical support engineer)
A day for everyone
If I had to sum up International Women's Day with one word, it would be inclusion.
That's why this year's theme, Each for Equal, is crucial.
To quote our CEO Chris Dance , we as a business have to represent society, so we should strive for a gender-balanced world.
That's what International Women's Day means to PaperCut.