Here is another "behind the scenes" post of the happenings here at PaperCut. Last Wednesday was National Ride To Work Day . This is an initiative of our local bicycle association to raise awareness and get more people riding to work around the country. Tom, Matt and myself already regularly ride to work (at least on the sunny days!) and we decided to put the invitation out to all to join us. Priyanka took up the challenge even though she has not ridden a bike in many years.
Here are some pictures of the day. Tom, Priyanka and myself met in Glen Iris and did the 30 minute ride along the Gardiner's Creek trail through to our office in Mount Waverley. I'm sure Priyanka now has a good appreciation of the word "Mount" in Mount Waverley after tackling the climb for the first time!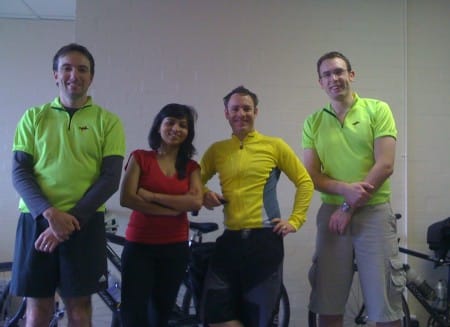 Matt, Priyanka, Chris and Tom after the morning ride
Priyanka and Tom climbing the "mountain"!
Hope you all find the behind the scenes look interesting, and yes, we don't just work on printer log software all the time!