OK… you caught us. We were so excited about our new brand that we "accidentally" leaked it on our Christmas greetings. (And on Twitter.) We are terrible at keeping secrets, obviously…
So to avoid any further indiscretions, we proudly announce PaperCut's new look for 2015!
It's friendly, multifaceted and green - just like us! What do you think? (Send us your thoughts on Twitter @papercutdev )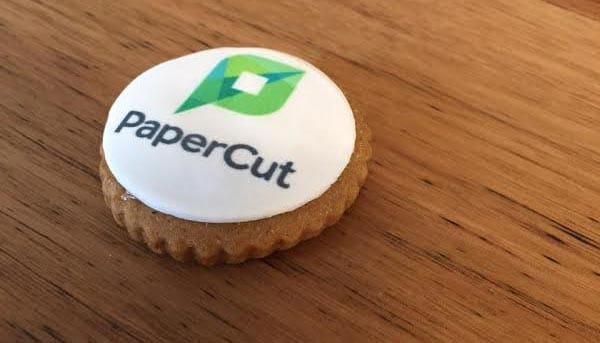 What's next?
In the new year you'll start seeing the PaperCut conversation bubble popping up all over the place. The website, social media, events, and of course with our  trusted ASC partners  around the globe. You may even see some tweaks to  PaperCut NG  and  PaperCut MF  as we continuously improve our User Experience. What won't change is our dedication to creating great software.
Thanks to everyone for helping make PaperCut the company that it is. Our new brand simply reflects the trust that you put in us every day.
Happy Holidays!!!
Behind the Scenes of the New PaperCut Brand
… A little more info if you're interested in the process of how the new look came to be. For newcomers to PaperCut, there are a four key things that  Chris and Matt  value that are incorporated into the design.
PaperCut is nimble - we release features fast and we release often. It's important to get new things out to you, our customers, as quickly and easily as possible.
We are techno-geeks who love to use software to solve problems (The new PaperCut "P" is an A4 piece of paper, divided geometrically, with all sorts of techie rules.)
It sounds kitsch, but we really do care… about every one of our customers, about our environment, and about the relationships that we've built during the last 16 years.
If you've been in our Knowledge Base, you'll know that we're as open and honest as we can be about pretty much everything. We don't pretend to be something we're not, and we'll tell you how it is.
For those who know us well, we hope that our updated brand represents the company that we are a little more closely.