Last year I was fortunate to welcome our newest family member - a joyous occasion celebrated by our little family (especially big sister), extended family, friends and my work family.
I say work family because that's what the PaperCut team is! Let's face it - I spend the majority of my time with these people and count them as friends and trusted advisers (and sometimes therapists).
Life after PaperCut (temporarily at least)
12 months ago the team took over the PaperCut cafe to bid me farewell with a massive feast (I was pregnant after all and took advantage of being able to eat anything)
[caption id="attachment4992" align="alignright" width="225"]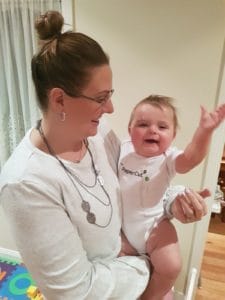 The best of a recent series of post-food [ahem] _expulsion photos[/caption]complete with games and decorations. I'm still not 100% convinced on the cleanliness of "spit the dummy".
Now, with bubs fitting snugly into his PaperCute outfit, I'm back at work after nine months maternity leave.
Back to work
It's a strange feeling. I'd had a few "keep in touch" days where I came into the office during my leave, catching up with different teams, and learning the general going ons. These were great, keeping me connected with my work family.
However, being back full time is a little more of an adjustment (to borrow from Natalie Feehan, MYOB ).
The question I'm asked most is "how are you coping?" followed closely by "I bet you miss the kids". I love the kids dearly and I sorely miss the cute gurgles and the one on one time that I had so much of during my maternity leave. But I also love working with lots of different people. And not just within my team or even my office.
I'm fortunate to be part of a global company with offices in the UK and US, and partners all around the globe. Everyone comes from a different background and has their own story. The beauty is they bring those experiences to work and together we create something great.
Plus, I enjoy having the opportunity to apply myself to problem solving.
And yes, I do enjoy the adult company!
I'm becoming a master of adjustments (with a dose of reality). Here's my list of adjustments, realities and what I'm mastering to ensure I can survive work post-maternity leave!
My adjustments,realities, and masterings list
Focus
ADJUSTMENT: Juggling drop offs and pick-ups in different locations. With the many tools available these days I can work from anywhere. Zoom, Slack, JIRA, Google suite - these are crucial tools to complement 9am-5pm face-to-face office hours. To ease back in gently, I'm working 75% on a full wage - thanks PaperCut!
REALITY: Even with all the tools, don't try getting me between 7am-9am or 5pm-8pm - that's feeding, dressing, reading, general family time.
MASTER: Compartmentalization! Be present in the moment, no matter where you are.
Adaptability
ADJUSTMENT: Returning to a different role. Restructures happen - it's a fact of life. Find the opportunity, make it work for you. PaperCut is moving to a matrix style of working. This removes the hierarchy and some of the blockers that can occur in middle management. Titles may differ, but we're all peers. I'm excited by this new working style.
REALITY: My role's now been split into four. Sure it's different, but it supports more family time so I'm happy!
MASTER: Change management. It's all about the communication.
[caption id="attachment_4995" align="aligncenter" width="882"]

Everyone working together at PaperCut[/caption]
Task switching
ADJUSTMENT: Applying myself to different projects almost every hour. It's tiring.
REALITY: It's the same with kids, only with them it's every five minutes and with two of them, those project differs wildly. And that's tiring, too!
MASTER: Multitasking! Yes, I know that contradicts compartmentalizing, but hey, it's a skill I need to master!
I'm a true believer that you never stop learning. There are a few new things for me to master but I know I can. I'll apply myself to one thing at a time, find a solution, delegate if possible and move on to the next. And keep changing nappies …
Have you come back to your workplace after time away? What have your experiences been? Let me know below.
---
Kelly returned to full time work at PaperCut in August 2018 after nine months away. In her role as global marketing manager, she oversees the brand, communications, and product marketing teams. And she's a new mum!
---