Employees are cool.
They're the ones that get stuff done and make you look good - but only if you look after them. We get stuff done at PaperCut because boy, do we recognise and appreciate our team!
Just Say Thanks
Whether it's simply an acknowledgement in front of others of going a little bit further to deliver a surprising outcome, or a little recognition award to reinforce the words, we like to highlight a job well done. We've even setup a Slack channel for anyone to jot down a note when they feel the teamwork has shone through, and our P&C team take care of the rest with a yummy snack to keep the team member from going hungry.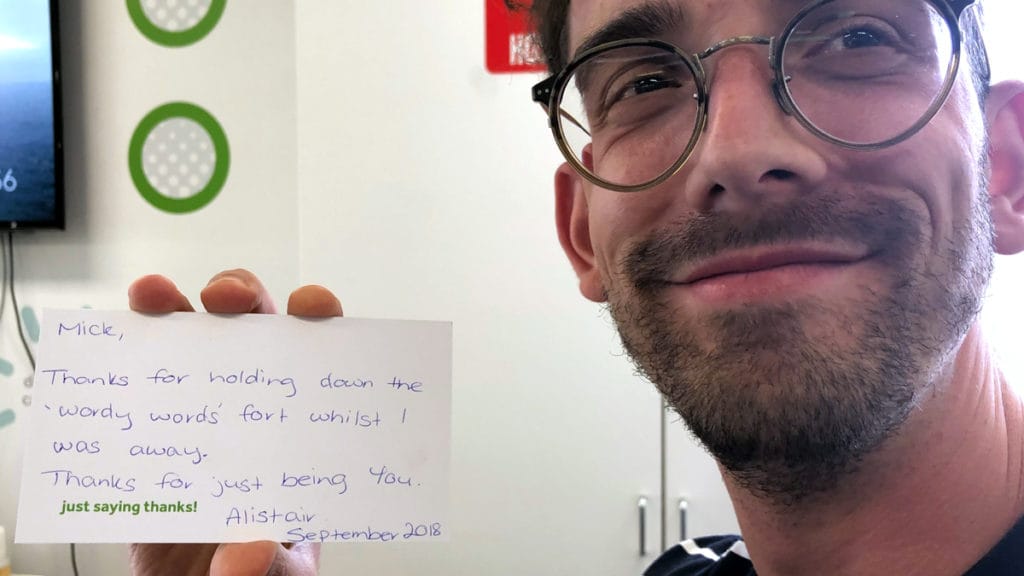 Copywriter Mick's #JustSayThanks card for just being him
Throwing BBQs and axes
Competition is encouraged, both in and out of the office, with creative activities being dreamed up including axe throwing, go-karting, retro gaming challenges and more. This may be within a department or across the whole company including at the Christmas parties, company barbecues (we're an Australian company after all), or Friday afternoon drinks.
International job swaps and donuts
We have job swaps going on all the time where a developer, for example, might spend a couple of weeks working as a marketer.
Recently, a team member from the UK job-swap in Melbourne was offered a two month stay - giving him time to catch a little culture and spend more time with team mates. Not surprisingly, he accepted.
Of course, at the end of the day, we're a software company. And when we release a new version, we celebrate with doughnuts (and other options for the savory lovers), which makes working at PaperCut all the more sweeter!
Oh, that and the financial bonus each year, when we share the company's success from winning as a team.
At PaperCut, appreciating our employees is pretty much an all day, every day thing.