Ah, those two glorious days when every PaperCutter swaps their nine-to-five hat for a let's-make-something-rad-'cause-we-can sombrero.
Yep, I'm talking about the 2018 PaperCut Constructival – an event where new ideas, inspirations, and innovations burst forth from the woodwork like bugs in a rushed end-of-year release.
Read on for a recap of what it's about, what went down, and what we Frankenstein'd into existence.
Constructicomeagain?
Constructival's a two-day hackathon where PaperCutters team up, tap into what makes them tick, and develop to their collective heart's content.
Think anything from apps that speed up everyday printing, to picturesque ponds (you'll just have to read on for this to make any sense).
Basically, there's no right or wrong way to Constructival, and nothing's off limits; not even aggressive biting (again, just keep reading).
And hey, four Constructivals in, we've got some pretty great tips to help your workplace do something similar .
IT'S ALIVE! The official (and spooky) opener for 2018's Constructival
The conjurations
Look, I can't spill the beans on every marvellous machination, as some actually become future PaperCut products/features.
But I can divulge a few gooduns (one of which is properly quacktastic).
1. DAM 🎨
The DAM (Digital Asset Management) took out the Constructival Founders' Award this year – and deservedly so.
Created by a bunch of talented designers, developers, and business analysts, the DAM is a living cloud-based library of PaperCut's visual assets. And it's heckin' useful.
"Designers sit across four teams, and we often need to share assets like icons and illustrations," says co-creator/Design Lead, Jeremy Smith.
"We set out to simplify this process, make things more consistent, and let non-designers easily source the right assets for their jobs."
An asset repository's pretty ace, but the DAM goes even further by letting users pick their colour palette, size, and output format – all wrapped up in an easy self-export workflow. Damn.
[caption id="attachment_5119" align="aligncenter" width="1024"]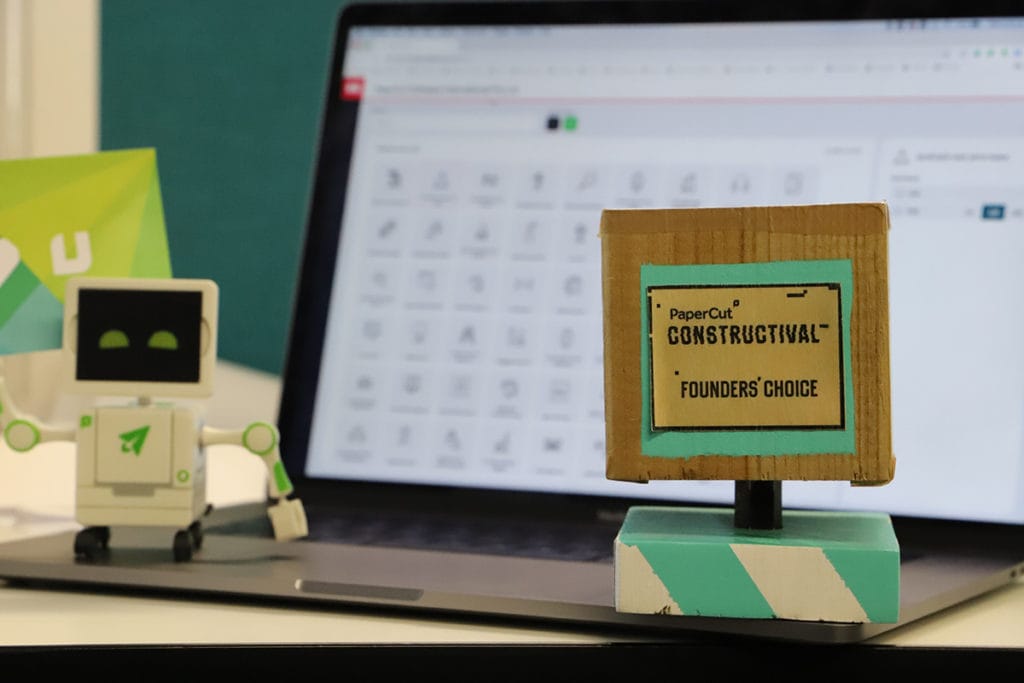 Damn, that's a nice trophy[/caption]
2. Virtual Pond 🦆
Oh, boy. Let's just launch straight into this one.
To creator and Support Projects Lead, Josh Hancox, the Virtual Pond is a "quiet, warm, arid, and rainy haven for office-absorbed workers to unwind while standing uncomfortably at their orthopaedic-approved desks."
Dumbed down for regular puny-brained humans, it's a Slack chat channel using automated script bots to magically transport you pond-side with the seductive musings of a sentient plastic bag.
Get this man a Nobel.
(Disclaimer: Josh is actually a bona fide support maestro and there's some impressive scripting work going on here. Yep, let's go with that.)
[caption id="attachment_5123" align="aligncenter" width="1024"]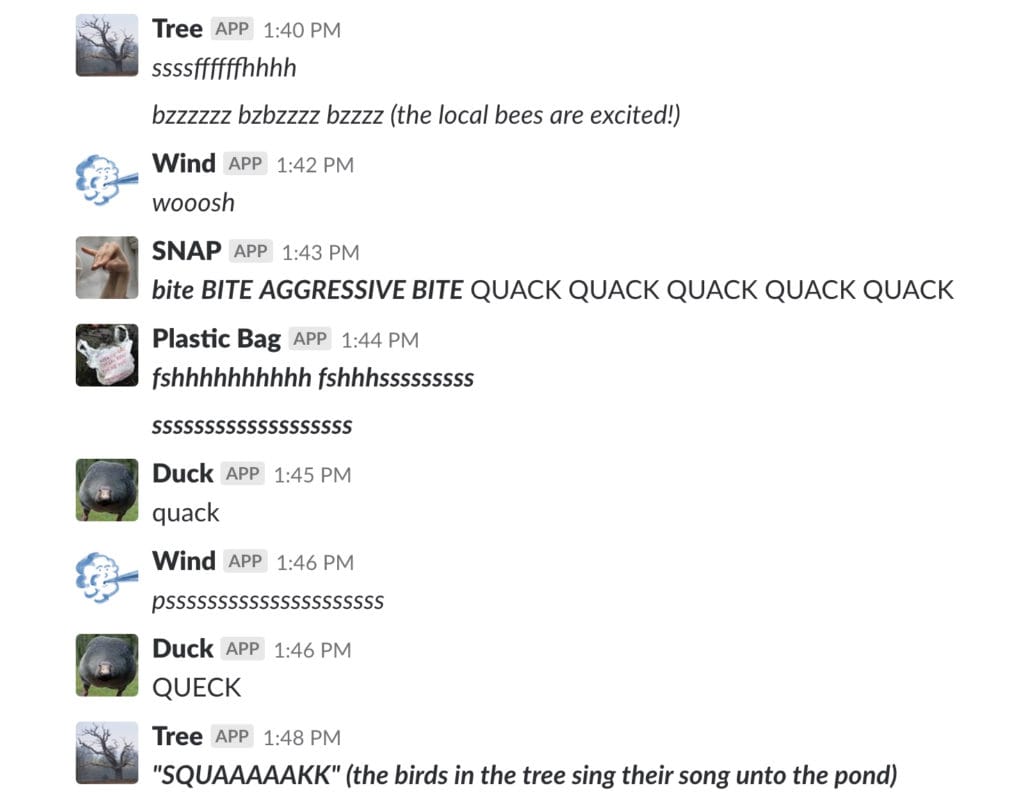 How's the serenity?[/caption]
3. Who ya gonna call? 📞
Following the Virtual Pond is tough, but it's doable when your creation is as good as Who ya gonna call? – a tool that streamlines finding coworkers based on their role, team, or skills.
"I think it's got a lot of potential in terms of knowledge sharing, and connecting people who want to learn with people who know something," says co-creator/Solutions Architect, Noah Wiemken.
The skill filter is especially nifty for those times you only know what you need, not where to get it. After an Excel wizard? Just select it from the drop-down. Lemon squeezy.
[caption id="attachment_5118" align="aligncenter" width="1024"]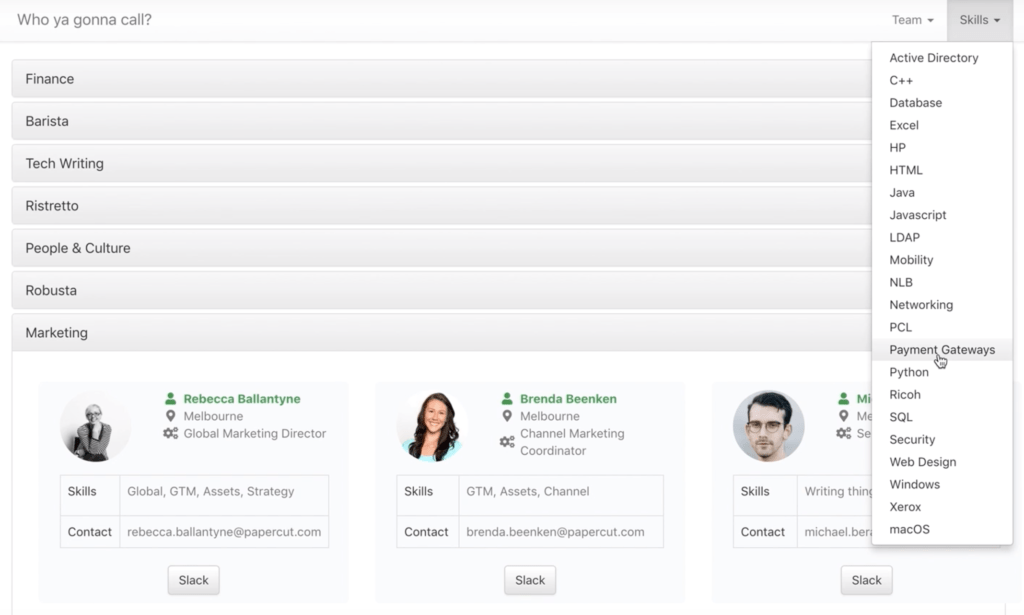 Who ya gonna call? Maybe that handsome fella bottom-right[/caption]
--
So there you have it. Some of the greatest, more pond-y creations to come out of 2018's Constructival.
And that's not even touching on the amazing stuff we have to keep under wraps. Here's to seeing them in future PaperCut releases 🍻