Nick and Patti at ITS . Chris and Julie at PaperCut. All 4 have had pie in their face, and now it's your turn!
In honor of the recent passing of a member of our Authorized Solution Center family, Alexandre Barbuat from Bluemega , we're Standing up to Cancer and taking on the "Pie Face Challenge."
Our Authorized Solution Centers are an extension of PaperCut in your region. They represent PaperCut MF around the world. Fully trained and certified, they offer customized solutions, configuration, installation and support and are experts at any brands across your printing environment.
At PaperCut, we want to support the people that support us. Our partners in the PaperCut ecosystem provide you with dedication application development, local sales, support and market knowledge. It's our turn to show support back.
So, if you've ever wanted to throw a pie at your leaders, do it for a great cause! Get behind the Pie Face Challenge, like ITS and PaperCut and, hey we would love to share your video!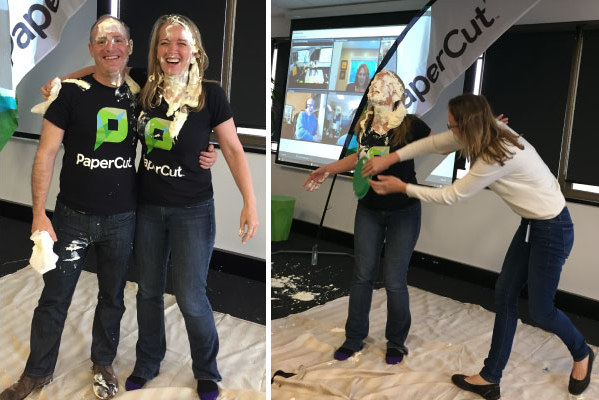 How it works
Nominate a leader or leaders in your business who you want to see Pie Faced! Set up a ticket collection and sell them to your teams. Nominate a time for the challenge, draw out ticket/s, and the lucky person/people drawn will get to throw a pie! The more you buy, the more chance you have of being drawn out to throw a pie!
PaperCut Melbourne are donating to Australian Cancer Research Foundation . Nominate a cancer charity in your country worthy of such a challenge. Stand up to Cancer have registered charities in the USA and UK.
And a tip for the making up the pies, just do it yourself. Make it tasty with ready made whipped cream in a pie dish! Simple!
And, don't forget to share your videos with us on YouTube! Send to marketing@papercut.com or link to us on social.